History
---
Biochemistry at Vanderbilt: 1953 – 2003, A Personal View

Author: Dr. Leon W. Cunningham
Leon Cunningham
Nobel Prize Recipient:  Stanley Cohen
View Dr. Cohen's Nobel lecture.
2016 Announcement
Stanley Cohen, our Nobel-prize winning Professor Emeritus, has been named to the Tennessee Health Care Hall of Fame by Belmont University and the McWhorter Society (see induction program). This accolade recognizes men and women who have made significant and lasting contributions to the health and health care industry.
Marlene Jayne, our retired Department Administrator, accepted the Tennessee Healthcare Hall of Fame award on behalf of Dr. Stanley Cohen and gave an eloquent speech. Presenting the Inductions was Dr. Harry Jacobsen, former Vice Chancellor of Vanderbilt University Medical Center. Winners exemplify high ethical and professional character as outstanding community role models. Read more here.

Original clipping (left) unearthed by Dr. David Bader and shared with our Department. The article is from the 1986 New York Times piece on our illustrious Nobel Prize Winner, Dr. Stanley Cohen. Below are links to the full text of the article as it appeared in print, along with another New York Times article also written about Dr. Cohen in the same time period.
"Two Pioneers In Growth Of Cells Win Nobel Prize"
"Man In The News; Holdout On Big Science: Stanley Cohen"
"Stanley Cohen's Nobel Prize: 25 Years of Progress"
Stanley Cohen – Nobelprize.org Biographical
The Elusive Nobel Prize Winner
---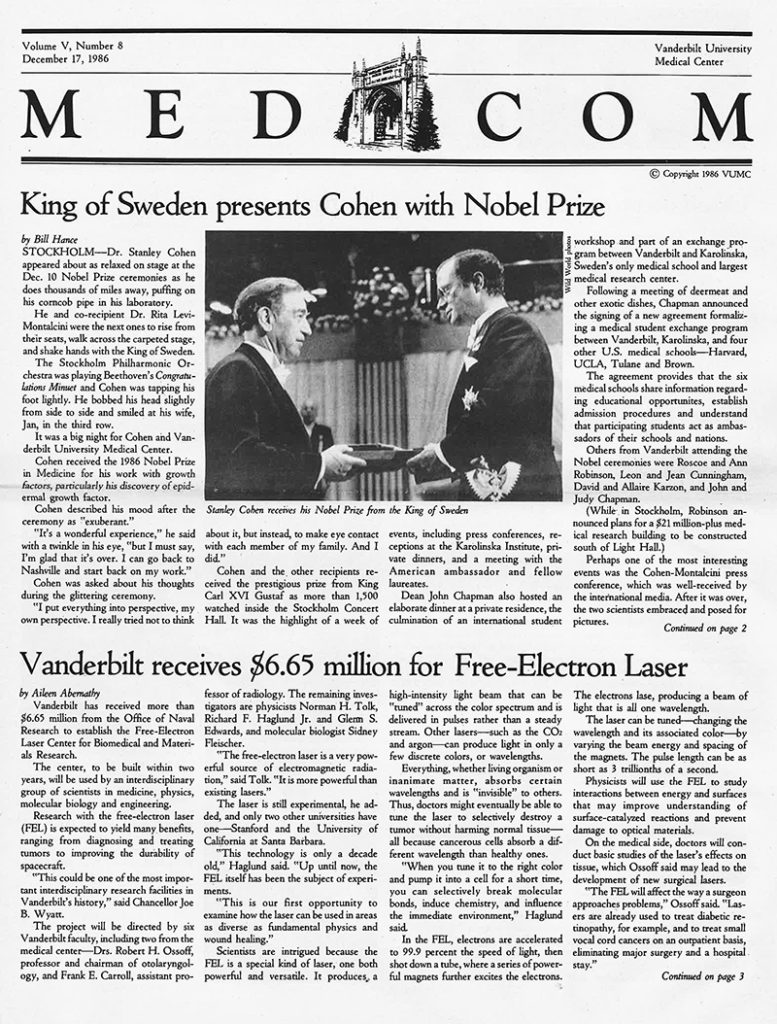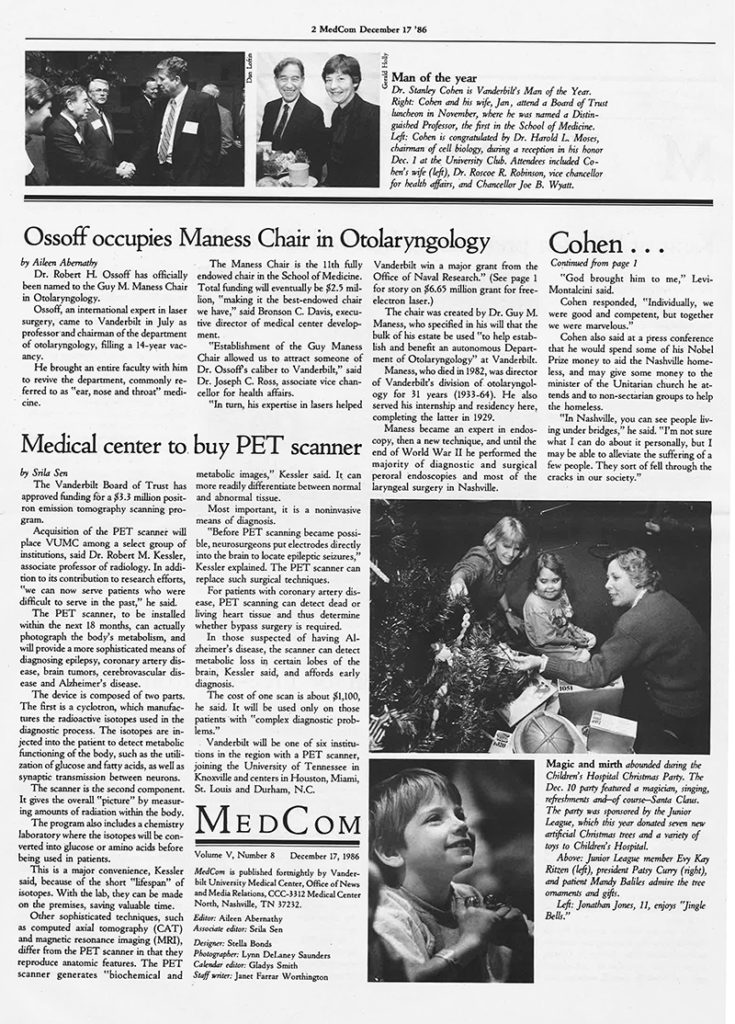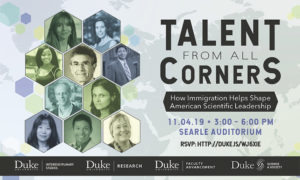 Our Distinguished Professor of Biochemistry, Emeritus, Dr. Stanley Cohen is mentioned within Dr. Lynn Helena Caporale's 2019 Keynote Lecture at Duke University, from a symposium discussing how immigrants have shaped scientific leadership.
Symposium 2019 info
Keynote Lecture link (5 min mark)
---
Frank Chytil
For nearly 30 years, Dr. Chytil's research focused on deciphering how vitamin A works at the molecular level. His research advanced the understanding of how vitamin A affects lung function of premature infants. In 2003, he published an autobiographical essay in the Annual Review of Nutrition titled "Rough and Rocky Road to the Retinoid Revolution," which detailed his research and his life in Czechoslovakia under Nazi occupation and later communist rule.
Read Dr. Chytil's obituaries.
---
For those wondering what our illustrious Marlene Jayne is up to since retiring from her 32-year role as Department Administrator…here's a photo of her latest adventure: gliding! Her direct quote is, "Life is fun."
---
Read 1920 G. Canby Robinson Letter Creating New Vanderbilt School of Medicine
---
Obituaries​
July 25, 2017: Dr. H. Alex Brown, the Bixler-Johnson-Mayes Professor in the Department of Pharmacology at Vanderbilt University School of Medicine, age 56, of Franklin, TN. Read more
June 18, 2015: Dr. Richard Neil Armstrong, Professor of Biochemistry and Chemistry and Editor of the ACS journal Biochemistry, age 66, of Brentwood, died at Vanderbilt Medical Center, after a brief illness. Read announcements here.
April 28, 2015:  Dr. David Ong, Professor Emeritus of Biochemistry, passed away on April 25, 2015. A retrospective remembrance may be read online here: obituary by Dr. Wagner and article (VU Reporter).
March, 2015:  Dr. Oscar Touster, Professor Emeritus of Biochemistry, passed away in March 2015. A retrospective piece in memoriam is available online here.  Additionally, some of his colleagues have contributed some kind words which may be referenced here.  Read 1963 Vanderbilt announcement of new Department of Molecular Biology here.
June 11, 2013: Dr. Leon W. Cunningham, 85, died Saturday, June 8, a day before his 86th birthday. His wife of 59 years, Jean Roberta Swingle Cunningham, died in 2007. Dr. Cunningham was well known for his contributions to the fields of enzyme chemistry, glycoproteins and connective tissue biochemistry, and for his commitment to the department and to the graduate students he mentored. Read more  Read obituary