Stanley Cohen Remembered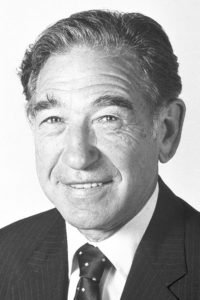 It is with tremendous sadness that we share news of the passing of one of our greats. Professor Stanley Cohen passed away this morning on February 5, 2020. His family will be writing an obituary. He is survived by his wife Jan and his children. Further details regarding the memorial service will be forthcoming along with a full obituary and press coverage. For now, we wanted to inform the Vanderbilt community of this unfortunate loss. In lieu of flowers, the family requests donations be made to The Stanley Cohen Innovation Fund via https://giving.vanderbilt.edu/cohenfund
Please accept our condolences on the loss of an esteemed colleague, Stanley Cohen. Should you need support in your grief, please seek assistance from the following University resources:
Employee Assistance Program (615-936-1327)
The Office of Religious Life (615-322-2457)
If you have quotes or stories for inclusion within any forthcoming Vanderbilt University press article, please do pass them along through our Department Administrator, Jen Smith, who will coordinate the necessary materials with the VU and VUMC press. Thank you. I am sure that there are many GREAT memories and comments to share.
As Professor Cohen was quoted in 1986 regarding his Nobel Prize award shared with Dr. Levi-Montalcini, "Individually, we were good and competent, but together we were marvelous." Indeed, Professor Cohen was marvelous and will be missed immensely for his influence upon our Vanderbilt community, as we continue to work together and strengthen the scientific legacy left in his wake.
Stanley Cohen's parents came to this country as Jewish immigrants from Russia. They came through Ellis Island and settled in New York. His father was a tailor and his mother a housewife; as Stan told Marlene Jayne, our long-time Department Administrator, neither parent had a formal education and they were adamant that their children be well educated. A polio survivor from childhood, Stanley was an individual determined to persevere. Scholastically, Stanley Cohen double-majored in Chemistry and Biology at Brooklyn College and received a Master of Arts in Zoology from Oberlin College. In 1948, he earned a doctorate at the University of Michigan from the Department of Biochemistry.
At Vanderbilt from 1959-1999, Professor Cohen's scientific research focused on the isolation of nerve growth factor and the discovery of epidermal growth factor. His groundbreaking science propelled our fundamental understanding of cancer and has led to the designed development of anti-cancer drugs. This is "personalized medicine" in its infancy; his most humble aim was to help humanity. It was during his tenure at Vanderbilt that Dr. Cohen was awarded the 1986 Nobel Prize in Medicine or Physiology with Dr. Rita Levi-Montalcini. Awards for Professor Cohen were numerous, and included the Albert Lasker Award, the Louisa Gross Horwitz Prize, the NIH Research Career Development Award, the National Medal of Science and, most recently, induction into the Tennessee Health Care Hall of Fame, among other accolades. Stanley Cohen will be remembered as a generous mentor and collaborator. Please feel free to peruse more about Stanley's work and his life at the Biochemistry history website:
Here is Marlene Jayne's remembrance of the 1986 Nobel announcement, as shared with the BSA Colloquium series recently: What an exciting day! Stan received a call early in the morning of October 10, 1986, and he immediately called me, waking my husband. When Bill handed the phone to me, the first and only thing Stan said was, "We won the prize!" which he repeated three times. I was so sleepy that I did not realize what he was saying until he said, "Marlene, the Nobel Prize, now get to the office as quick as you can!"