What Is Biochemistry?
The Department of Biochemistry is a diverse group of scientists, trainees, and staff dedicated to discovering the basic mechanisms of biological processes through fundamental research and disseminating that knowledge via education and service to our community. We use tools ranging from simple chemical probes to multi-million-dollar imaging systems and apply them in organisms ranging from bacteria to humans. Our investigators are leaders in applying advanced approaches in structural biology, mass spectrometry, chemical biology, cell biology, and genetics to thematic areas like DNA and RNA metabolism, cell division, enzymology, molecular cancer biology, signaling, toxicology, and metabolism. We are united in seeking molecular answers to biomedical questions.
The Vanderbilt Department of Biochemistry began in 1925. Through its history since then the Department has flourished under the direction of six chairs. It currently has 23 primary investigator-track faculty and another ~50 secondary, educator, and research-track faculty. An exceptional group of graduate, medical, and undergraduate students and large cohort of post-doctoral fellows train in our laboratories supported by over $30M in NIH funding (#1 in the U.S.).
As one of four basic science departments in the School of Medicine Basic Sciences, Biochemistry benefits from being affiliated with a large medical center and medical school as well as Colleges of Arts and Sciences and Engineering. We bridge basic mechanistic discovery with clinical application to improve human health. Our unique administrative structure allows us to strategically invest in infrastructure, initiatives, and people to fulfill our missions of research, education, and service.
The offices and laboratories of the department are in Light Hall, the Robinson Research Building, the Preston Research Building, and Medical Research Building III (see maps) on the Vanderbilt University and Vanderbilt Medical Center campus.
Over the years, faculty in the Department of Biochemistry have received considerable recognition, including receipt of major University awards, election to the National Academy of Sciences, and a Nobel Prize in Physiology or Medicine (Stanley Cohen, 1986). We are proud of our history and current status, and we strive towards continued excellence in research, training, and service in the field of biochemistry.
–David Cortez, Ph.D., Chair
We invite queries regarding graduate studies, postdoctoral training, and faculty positions.

A recent article about the Biochemistry Department can be found here.
Biochemistry and Chemical Biology Undergraduate Major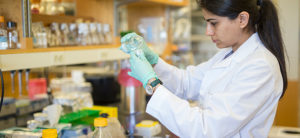 To contact the Biochemistry and Chemical Biology Undergraduate Major Program at Vanderbilt University, please visit https://as.vanderbilt.edu/bcb