Physician-Scientists Represented by Dr. Williams at the 2019 Rally for Medical Research
by Rachel Brown (G3)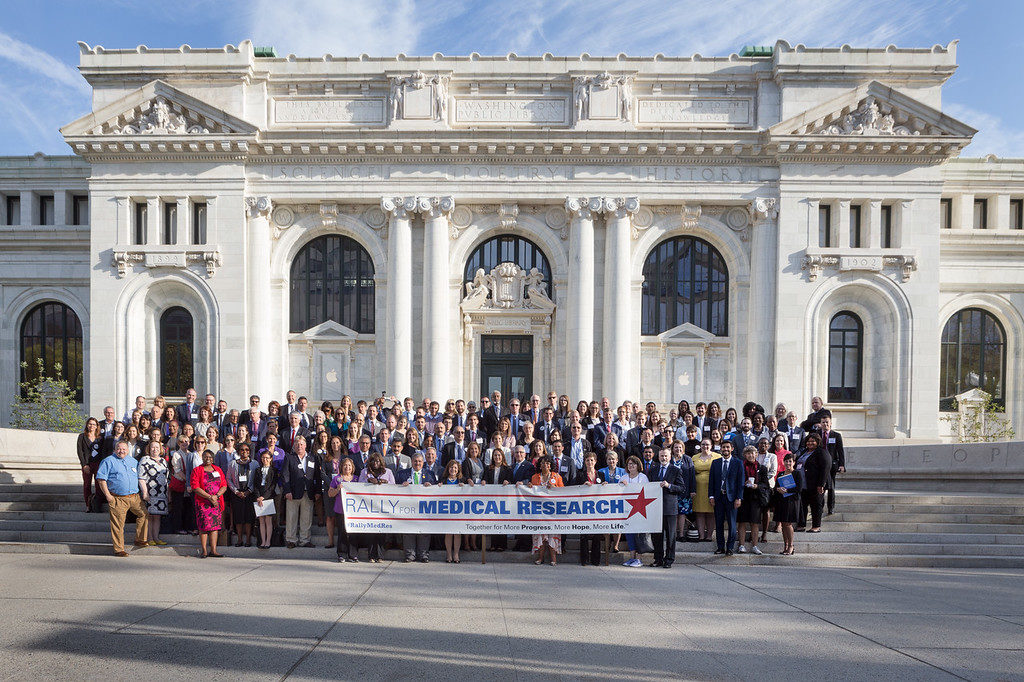 On September 18th-19th, 2019, Vanderbilt MSTP Director Chris Williams attended the 2019 Rally for Medical Research on Capitol Hill in Washington, D.C. The annual Rally for Medical Research unites 350 organizations to form a broad coalition representing the medical research advocacy community.  Rather than lobbying Members of Congress separately, representatives from each organization work together to advocate for increased investment in the National Institutes of Health (NIH) and "raise awareness about the importance of continued investment in medical research that leads to more progress, more hope, and more lives saved."  Specifically, rally attendees urged Congress to:
Provide the NIH with an increase of at least $2.5 billion for FY 2020, for a total funding level of at least $41.6 billion.
Work in a bipartisan way to complete the FY 2020 appropriations process in a timely manner in order to avoid disruptions to the medical research system.
Dr. Williams was invited to represent the Alliance for Academic Internal Medicine (AAIM) due to his role in training the next generation of physician-scientists. Vanderbilt Research Assistant Professor of Cardiovascular Medicine Dr. Hyun Song, Ph.D., and University of Tennessee Assistant Professor of Pediatrics-Critical Care Dr. Alina West, M.D., served as additional advocates from Tennessee.
Rally attendees received a day of training and role-playing in which lobbyists from some of the involved organizations shared their "toolkit" of strategies for speaking with Members of Congress.  Key advice included: standardizing talking points, keeping talking points simple, sticking to the message, and making sure to thank representatives for their support.
The House of Representatives Committee on Appropriations had authored a letter advocating for a $2 billion increase in the NIH budget in April 2019.  On September 18th, the first day of the rally, the Senate Committee on Appropriations recommended a $3 billion increase in the NIH budget.  The final number has not yet been decided but will likely fall somewhere between the two recommendations. One of the rally's main goals was to advocate for at least a $2.5 billion increase.
Dr. Williams, Dr. Song, and Dr. West met with U.S. Senator Marsha Blackburn and U.S. Representative Jim Cooper, as well as staff from the offices of Senator Lamar Alexander and Representatives Mark Green and Steve Cohen. Cooper emphasized that he gets lobbied by groups advocating for medical research in many different fields, and that they should all work together rather than lobbying separately, which was in fact the point of the rally.  Dr. Williams also pointed out that consistent, steady increases in the NIH budget allows the nation's scientific workforce to plan stable careers.
Dr. Williams explained the critical national need to invest in training the next generations of physician-scientists. He explained that physician-scientist trainees have to make career decisions based on what they think the NIH funding environment will be  up to 15 years in the future. In general, all of the elected officials and their staff were very receptive in learning about research and were supportive of training the next generation of physician-scientists.
Dr. Williams gleaned a few takeaways from his involvement in the rally that would be helpful for any physician or scientist planning to meet with their elected representatives:
Recognize that your institution has trained lobbyists that can help you prepare! Before attending the rally, Dr. Williams reached out to VUMC's Senior Director of Federal Relations, Alex Currie, who provided a helpful briefing on the elected representatives that rally attendees would be meeting with.
When you request meetings with Members of Congress, you may end up meeting with their staff who, in general, are very knowledgeable.
Luckily, funding for scientific research is one of the few issues in the country that has strong bipartisan support.
Large boluses of money don't help move the effort forward as effectively as sustained investment – yearly, predictable, sustainable budget increases above the rate of inflation.
"The NIH is the largest funder of medical research in the country, so it has a large impact on physician-scientist career paths.  Students should be involved in advocacy so that we can inform the taxpayers and their representatives why funding research is key priority for our government," says Dr. Williams. "We need to practice our three-minute theses, or elevator pitches to the non-scientist, and share them freely."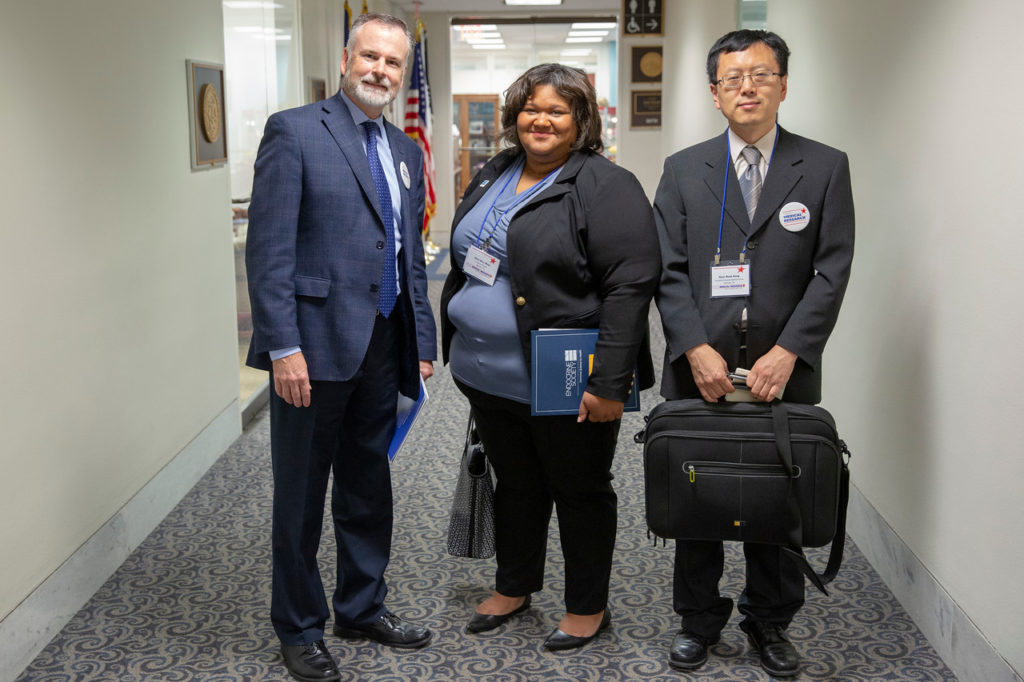 Dr. Williams, Dr. West, and Dr. Song served as the representatives from Tennessee. (Photo by Alan Lessig)
Rally for Medical Research Hill Day messaging training at the Top of the Hill Banquet and Conference Center. (Photo by Alan Lessig)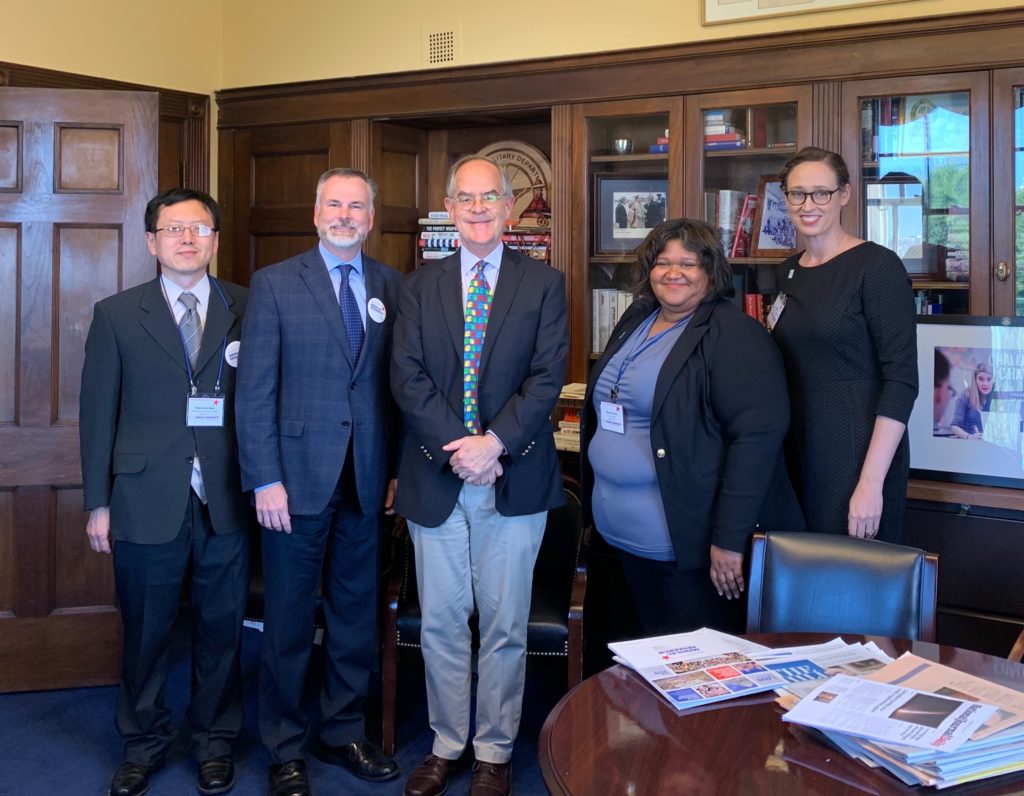 Dr. Williams, Dr. West, and Dr. Song met with U.S. Representative Jim Cooper, who represents the Tennessee district that is home to Nashville (TN-05). (Photo by Alan Lessig)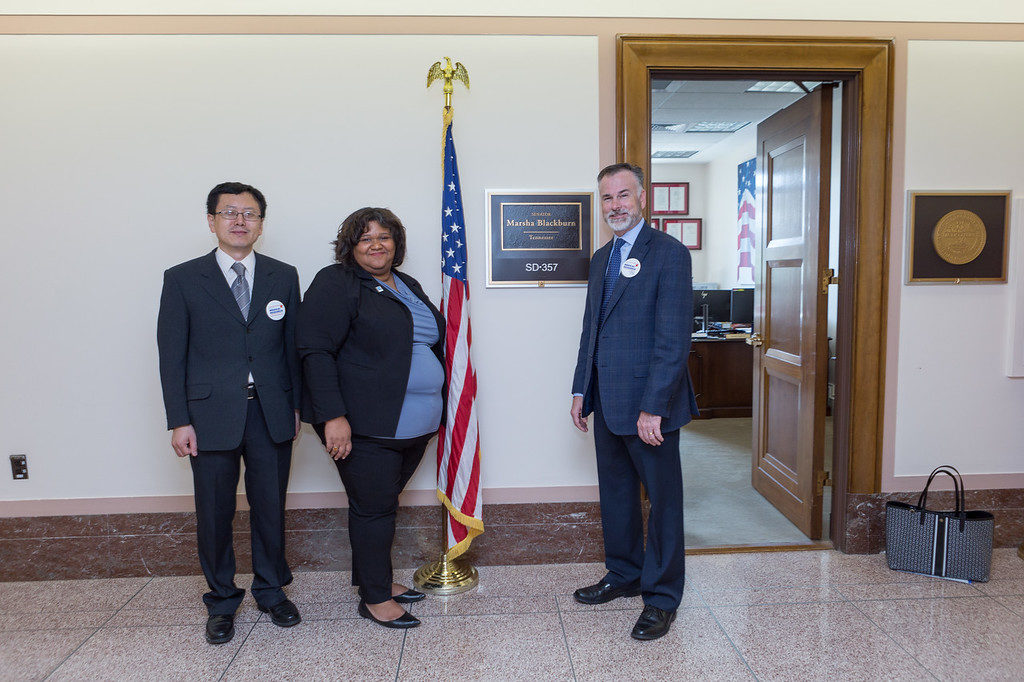 Dr. Williams, Dr. West, and Dr. Song also met with Senator Marsha Blackburn. (Photo by Alan Lessig)