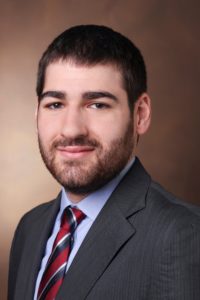 Jacob Feldman
PhD Candidate

---
Woynaroski Lab, Principal Investigator: Dr. Tiffany Woynaroski and Wallace Lab, Principal Investigator: Dr. Mark Wallace
Education: 
BS, Communication Sciences and Disorders and Psychology, 2013, The Pennsylvania State University (University Park, PA)
MS, Speech-Language Pathology, 2015, Vanderbilt University (Nashville, TN)
Hobbies and interests: In his free time, Jacob enjoys long bike rides through Nashville, horseback riding, watching ice hockey (Go Preds and Flyers!) and rooting for Philadelphia sports teams.
Social Media: Twitter
Research Description
I am interested in early identification of autism spectrum disorder and how audiovisual multisensory integration may explain variance in core autism symptoms and higher level factors, such as language and literacy.
Publications
Sandbank, M., Bottema-Beutel, K., Crowley, S., Cassidy, M., Dunham, K., Feldman, J. I., Crank, J., Albarran, S. A., Raj, S., Mahbub, P., & Woynaroski, T. G. (2019, in press). Project AIM: Autism intervention meta-analysis for studies of young children. Psychological Bulletin.
Bottema-Beutel, K., Kim, S. Y., Crowley, S., Augustine, A. E., Keceli-Kaysili, B., Feldman, J. I., Woynaroski, T. G. (2019). The stability of joint engagement states in infant siblings of children with ASD: Implications for measurement practices. Autism Research, 12, 495-504. doi: 10.1002/aur.2068
Feldman, J. I.*, Kuang, W.*, Conrad, J. G., Tu, A., Santapuram, P., Simon, D. M., Foss-Feig, J. H., Kwakye, L. D., Stevenson, R. A., Wallace, M. T., & Woynaroski, T. G. (2019). Brief report: Differences in multisensory integration covary with differences in sensory responsiveness in children with and without autism spectrum disorder. Journal of Autism and Developmental Disabilities, 49, 397-403. doi: 10.1007/s10803-018-3667-x
*Authors made equal contributions
Feldman, J. I., Dunham, K., Cassidy, M., Wallace, M. T., Liu, Y., & Woynaroski, T. G. (2018). Audiovisual multisensory integration in individuals with autism spectrum disorder: A systematic review and meta-analysis. Neuroscience and Biobehavioral Reviews, 95, 220-234. doi:10.1016/j.neubiorev.2018.09.020
Weiler, B. K., Schuele, C. M., Feldman, J. I., & Krimm, H. (2018). A multi-year population-based study of kindergarten language screening failure rates using the Rice Wexler Test of Early Grammatical Impairment. Language, Speech, and Hearing Services in Schools, 49, 248-259. doi: 10.1044/2017_LSHSS-17-0071
---