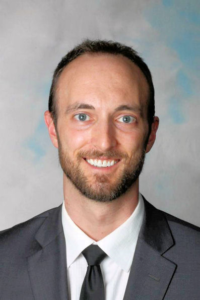 Robin Jones
Assistant Professor, Hearing and Speech Sciences

---
: 10221 MCE South Tower
1215 21st Avenue South
Nashville, Tennessee - 37232
Education:
B.S., 2003, Miami University, OH
M.A., 2006, The Ohio State University, OH
Ph.D., 2012, Vanderbilt University, TN
Post-doc, 2013, The Ohio State University, OH
Biography:
Robin M. Jones, Ph.D., CCC-SLP, is an Assistant Professor in the Department of Hearing and Speech Sciences at the Vanderbilt Bill Wilkerson Center and Director of the Developmental Stuttering Laboratory.  His research focuses on speech-language, cognitive and emotional contributions to the pathogenesis of developmental stuttering as well as the translation of this work to diagnosis and treatment.  At present, the central questions of his research are: what are the objectively identifiable processes that contribute to the early onset of stuttering and do these processes predict which children are likely to recover versus develop persistent stuttering?  In order to address these issues, his lab uses a diverse set of approaches and methods including caregiver report, behavioral, and psychophysiological measures to link speech-language, cognitive, and emotional processes to the onset and/or development of childhood stuttering.  Dr. Jones is also a clinician and highly motivated to apply the findings of this current work to issues that relate to and inform diagnostic and treatment protocols.  This work represents an interdisciplinary effort of speech-language pathologists, developmental psychologists, neuroscientists, and basic and applied researchers.
Dr. Jones also serves as Diversity Liaison for the Department of Hearing and Speech Sciences and Director of the department's Diversity, Equity, and Inclusion Task Force—a committee of faculty, clinicians, staff, and students serving as leaders in the promotion of diversity, equity, and inclusion within the department, discipline and ultimately worldwide.
In his spare time, Dr. Jones can be found spending time with his wife and three children as well as cooking, playing guitar, hiking, and surfing.
---