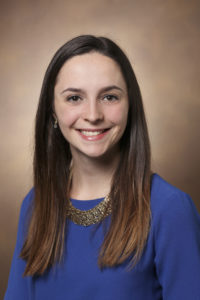 Sarah Diehl
PhD Candidate

---
Neurogenic Communication Disorders Lab, Principal Investigator: Dr. Michael de Riesthal
Hometown: Danville, PA
Education: 
BS in Health Sciences, 2015, Duquesne University (Pittsburgh, PA)
MS in Speech-Language Pathology, 2016, Duquesne University (Pittsburgh, PA)
Hobbies and interests:
Hiking, running, traveling
Research description: 
Sarah Diehl is interested in the interaction between speech, language, and cognitive deficits associated with traumatic brain injury, Huntington's disease, and other progressive neurological conditions. She also has interests augmentative and alternative communication for individuals with complex communication needs.
Publications: 
de Riesthal, M. & Diehl, S.K.(2017). Conceptual, methodological, and clinical considerations for a core outcome set for discourse. Aphasiology, 32, 469-471.
Wallace, S.E., & Diehl, S.K. (2017). Multimodal Communication Program for Adults: Cognitive Considerations. Perspectives of the ASHA Special Interest Groups, 2(12), 4-12.
---