We're all #MSTPStars!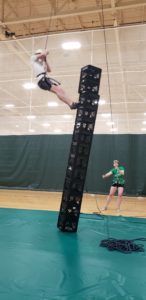 Not to be hindered by his recent diagnosis of narcolepsy, the stress fracture in his foot, or the fact that he had just biked for 30 minutes at a sustained heart rate above 180 bpm, Eric Donahue (G1) took his talents to the rec basketball courts to compete against undergraduates in the crate stacking contest. Eric was able to stack more than 12 crates, a feat that could only be surpassed by "a couple other people."
In addition to his star-worthy moment at the rec, Eric recently made two important discoveries in the lab. When genotyping mice, it turns out that leaving active proteinases in the PCR reaction mixture will indeed digest DNA polymerase and yield meaningless results for literally hundreds of genotyping attempts. Eric also procured the elusive cell phone number of Dr. Zhu, the lab staff scientist, displaying this phone number on the lab whiteboard and greatly enhancing communication among lab members.
Truly it has been a month to remember.
-Joey Elsakr (G4)