Inquiry Program Course Descriptions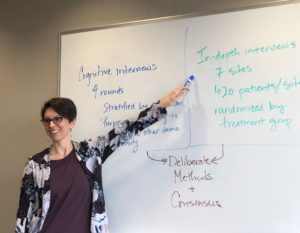 CASE (Year 1)
During Clinical Applications of Scientific Evidence (CASE), instructors train first-year MD students to evaluate primary scientific literature critically and systematically. Students practice applying evidence-based medicine to clinical cases. They also meet diverse physician-researchers who share insights about their respective career paths.
DISCOVERY (Year 2)
The second course in the 4-year Inquiry Program, Discovery highlights many research opportunities and resources at Vanderbilt. This course provides ample opportunities for students to meet with potential mentors as they determine which mentor and project best fit their career goals. During Discovery, students undertake the Pathway2PLAN, a series of 5 activities that lead to the identification of a mentor and project to be refined in the PLAN course.
PLAN (Year 3)
The course PLAN: Developing a Research Project helps students develop a complete, structured research proposal. Conducted as a sequence of small group sessions, PLAN encourages personalized interactions between students and course instructors. Detailed, regular feedback from course directors and mentors allows students to refine their individual research projects. By the end of the course, each student and mentor pair has a completed research plan that will serve as a guide during the subsequent RI Phase.
RESEARCH IMMERSION (Years 3-4)
Immersion Phase
All medical students conduct a 3 to 6 month mentored research project that they developed and refined in the PLAN course. During these months, students work full-time on their research, attend weekly Research Area group meetings, and provide updates to their mentor and Research Director. Research Areas include