Research Connections
Please join us for our annual Research Connections event on January 7, 2019!
​Vanderbilt and VUMC researchers: if you or your department/center would like to participate, please RSVP. We would love to see you there! First- and second-year students: stay tuned for your invite!
What is Research Connections?
Each year, the Office of Medical Student Research sponsors a large research fair where first- and second-year medical students chat with Vanderbilt researchers about potential research opportunities and mentoring as they near their Research Immersion phase (protected research time). Departments and centers across Vanderbilt and VUMC have a chance to showcase their work and talk with interested students, and everybody enjoys free lunch!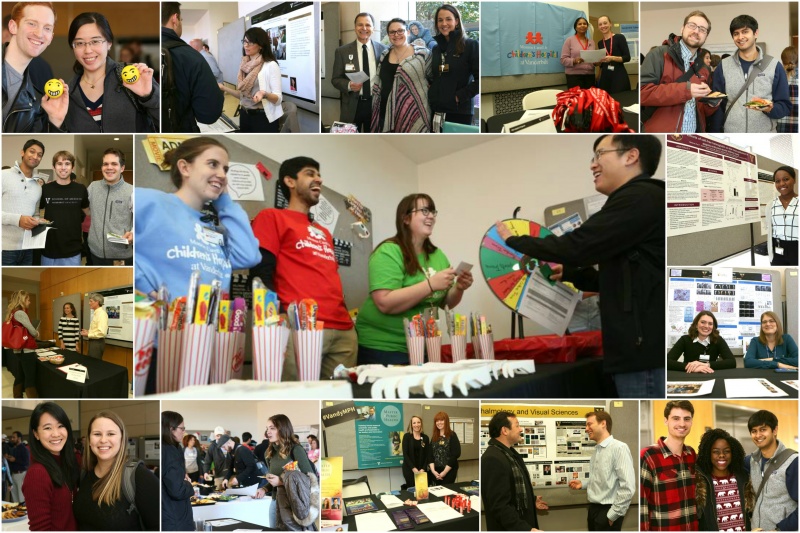 Students network with prospective mentors at a Research Connections event
Who participates?
In addition to many medical students, these Vanderbilt departments and centers participated in Research Connections 2018:
Allergy, Pulmonary, and Critical Care Medicine
Anesthesia & Perioperative Informatics Research Division
Center for Clinical Quality & Implementation
Center for Effective Health Communication
Department of Biostatistics
Department of Surgery, Division of Surgical Oncology & Endocrine Surgery
Diabetes Center
Diabetes Research and Training Center
Diet, Body Composition, and Human Metabolism Core
Division of General Pediatrics
Hematology/Oncology
Institute for Global Health
Master of Public Health Program
Medicine
Medicine/Dermatology
Medicine/Nephrology
​Memory & Alzheimer's Center
Obstetrics and Gynecology
Pediatric Hematology/Oncology Division
Pediatrics
Physical Medicine and Rehabilitation
Schoenecker Research Lab
The Surgical Outcomes Center for Kids
Tuberculosis Center
Along with faculty representatives from these five research areas:
Biomedical Informatics
Bench to Bedside
Community & Global Health
Epidemiology
Ethics, Education, Policy & Society
Questions?
Feel free to email vms.research@vanderbilt.edu or stop by Eskind Biomedical Library, 416. We'd love to tell you more!
---
Past Research Connections