Alumni Profile: Kristen Eckstrand, M.D., Ph.D. ('15)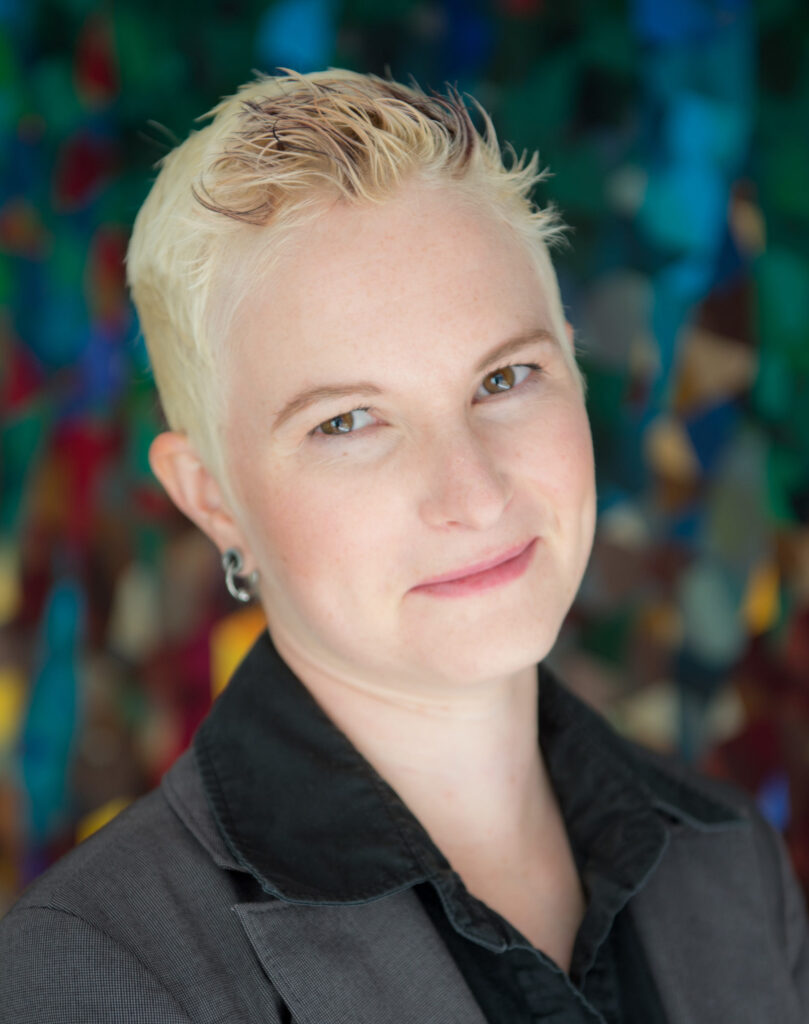 by Camille Wang (G2)
Kristen Eckstrand, M.D. Ph.D., is a Child and Adolescent Psychiatrist and a Post-Doctoral Scholar at the Western Psychiatric Hospital of the University of Pittsburgh Medical Center (UPMC). For her undergraduate degree, Dr. Eckstrand attended Beloit College, a private liberal-arts college in southern Wisconsin. She then matriculated at Vanderbilt University for her M.D. and Ph.D. in neuroscience. In addition to her physician scientist training, she helped increase the number of curriculum hours dedicated to LGBTQ health and co-founded the Program for LGBTQ Health at Vanderbilt University. She also co-authored a set of landmark competencies that aimed to assist academic health centers to be inclusive and responsive to LGBTQ health needs, which continues to shape and improve medical education today.
She recently completed her psychiatry residency training at UPMC, and is now pursuing her postdoctoral research in the labs of Mary Phillips, MD and Erika Forbes, PhD., studying the neuropsychiatric underpinnings of trauma and resilience in sexual minority youth. She was one of several distinguished Vanderbilt alumni recently nominated as additional Vanderbilt MSTP Advising College namesakes. She sat down with the MSTP newsletter in a later conversation to elaborate more on her perspective and share further wisdom. 
Audio clip
Description: Dr. Eckstrand offers advice for those of us who have a worrier mindset, and how she has found sustainable ways to navigate challenges. 
I think there are very few people in the world who don't go through the world and don't feel trapped in their career and in their life, and they go through a process of what does this mean to me, what control do I have over this situation, what control do I want over this situation? And I think what I ended up doing was, I was someone who did a lot of thinking and planning over the future and having these big grand ideas, and one of the things I ended up doing was trying to be more mindful of the things that I enjoyed in the present. An example of that is with COVID, I could spend all day worrying about whether I'm going to get it. The way I handle that is I say, I'm not sick today, and so I do that a lot when I think about my career path that we're on and that it's a long haul. So I think that I do a better job of, I'm not taking account of the gratitude of the things that I have, using those things that I'm grateful for as stabilizing factors, letting go of the things I don't have complete control over, is all very helpful.
One of the books that I read during grad school really helped frame that, the author is Pema Chodron, When things fall apart. I found that to be very helpful because I when we let ourselves acknowledge that not all things are within our control, but there are a lot things that are within our control, that our mind creates suffering for, worries about the future, fears that you're not good enough, worries that you won't finish your PhD, worries that you won't get into residency, worries that you won't be happy in the future. When we get into thinking like that, and that's a natural mindset of clinical medicine because we have to think about what are all the things that could happen, and what could we do to worry about them more and prevent them. It's a natural mindset of medicine, but it's not one that's sustainable in our personal lives. And so, being able to say that our minds themselves and the worries that they have, have a big influence on how we perceive the world and the happiness that we have in the world, and that our mind is a source of suffering, and that is a source of suffering that we can reduce and we can be free of, I think gave me a very different perspective on how to approach the world. I'm much happier, I've been trying to practice some of the things that are in that book in many ways.
It's a good thing, a lot of us end up practicing medicine and science because we worry what would happen if we didn't, and that doesn't create the bond that you want to create to your work until your work life balances. We have to reframe that around why I'm doing this, and if you're doing this because of worry, that's not sustainable. You have to find a reason why you love it independent of the worry, and you have to be able to live without the worry in many ways in order to be truly happy doing it. And so I think that's been a work in progress.
One of her major legacies is having co-founded the Program for LGBTQ Health at Vanderbilt University in 2012, which aims to improve healthcare for lesbian, gay, bisexual, transgender and queer patients by addressing healthcare disparities.
When she started in medical school, she noticed that there was a lack of education about LGBTQ+ health in the curriculum, and some implicitly biased attitudes expressed by those within the medical school. Thus, she set forth to improve the education of future doctors on LGBTQ+ health. When she brought forward her plans to the administration, naturally she encountered some challenges.
"When you're doing something that is very novel and that others haven't done, the idea that you should have a comprehensive plan at the beginning is almost impossible. So, when you encounter the type of person who needs a plan in order to support or invest, irrespective of the topic, it can come across as rejection or disinterest, whether or not that is the intent," she explained.
She also shared several main barriers in increasing LBGTQ+ health education in the medical curriculum, which may apply to other initiatives with similar goals. These included rearranging the standing dense medical curriculum, finding faculty members that not only can teach didactical content but also model language and attitudes, finding the right balance of assessments to send to students, and having a financial infrastructure to support changes.
By the end of her seven year medical and graduate education, she was able to incorporate several hours of LGBTQ+ coursework into a curriculum that did not teach it before. In future advocacy work, she advises advocates to remain optimistic and determined. "If you want to do work like this, you have to state your intention up front. You have to say – I'm excited about doing this, let's figure the plan out and I want your opinions represented in the plan."
Despite her outward success, getting to her current roles was by no means a well paved path
 At the start of her medical training, the idea that there was room for advocacy around identity (e.g. sexual orientation, race, etc.) as a primary part of a medical career seemed very novel, especially since not many role models exist in this capacity. "Certainly, people would probably say differently because…offices of diversity [exist]. But, in terms of what I knew at the time – what doctors did and what doctors could do – it didn't cross my mind." 
Her advocacy work arose from an interest in why we treat others the way we do, especially in decisions that knowingly hurt other people. "I find equity and fairness to be something I get …very passionate about. But how I built that into my career was through trial and error."
Currently, she is a postdoctoral fellow at UPMC, and she holds several other roles including co-directing the University of Pittsburgh School of Medicine's LGBTQ Health elective. Her next step is to apply for a K (Career Development) Award, in which she proposes to study how trauma and identity stress can be used as a biomarker in mental health for sexual minority individuals.
"One of the best things that I've done with my self-reflection is to not create lifelong career goals. I'm going to apply for a K, give that five years, and see how it feels to be an independent researcher," she explained.
With the multiple roles she holds, figuring out how to balance her responsibility to all the activities she is passionate about is a continual learning process. "That's my other big challenge for the next five years, to get more experience with managing time better," she said. Still, she is greatly looking forward to seeing her research and her other advocacy interest to overlap in a more integrated manner than it previously has.
Being on a long journey requires patience, and Dr. Eckstrand advises finding enjoyment through it all
Along her journey of self discovery and career building, she accumulated many skills that have lent to her success in medicine, science, and advocacy. One of these skills was patience.
"I think the MD-PhD path is one of complete and utter patience, and I think in many ways that can be something that translates to doing equity work. [It's] a skillset that we have as researchers to be able to think in longer-term chunks," she explained.
Dr. Eckstrand is happy to share her expertise and life experiences with students who may desire mentorship through their training process. "Growing up is really hard, and being in a system that prolongs your growing up by staying in school is certainly a unique position to be in. Happy to provide some support along the way.