Match Day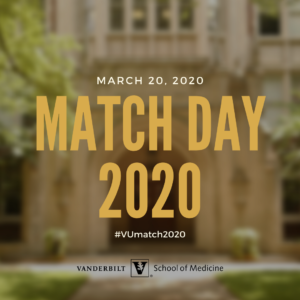 Match Day is the culmination of four challenging and arduous years, and, in some ways, the most exciting day of the medical school experience. Students receive notice of their residency match beginning at 11 a.m.
By Vanderbilt tradition, the Associate Dean for Students randomly selects names, and as each person receives the envelope, he or she places one dollar in a fishbowl. The last person called gets to keep all the money as a reward for patience in the face of high anxiety.
The medical school sponsors a reception for students, faculty, and significant others immediately following the Match Day ceremony.
Match Day Results
2020
Where they matched (download PDF)
2019
Where they matched (download PDF)
Photo gallery
2018
Where they matched (download PDF)
Photo gallery
Video
2017
Where they matched (download PDF)
Photo gallery
Video
2016
Where they matched
Photo gallery
Video
2015