For Employers
The BRET Office of Career Development invites employers to take advantage of opportunities for your organization to connect with our graduate students and postdoctoral fellows in the biomedical sciences.  We can put you in touch with bright, talented, self-motivated people who will have an immediate impact on your organization.
About BRET
Vanderbilt University and Vanderbilt University Medical Center (VUMC) are leaders in medical education, research, and patient care throughout the Southeast and the nation. The Office of Biomedical Research Education and Training (BRET) coordinates graduate education, postdoctoral training, minority affairs, and training grant initiatives for the Vanderbilt biomedical research community. For more information on the office, please visit the BRET page.
Our Trainees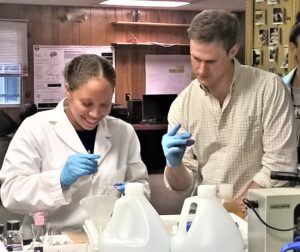 Nearly 1,500 postdoctoral fellows and graduate students conduct biomedical research in seven basic science departments and 20 clinical divisions at Vanderbilt University and VUMC. The Graduate School awards Ph.D. degrees in Biochemistry, Biological Sciences, Biomedical Informatics, Biostatistics, Cancer Biology, Cell and Developmental Biology, Chemical and Physical Biology, Epidemiology, Hearing & Speech Science, Human Genetics, Microbe-Host Interactions, Molecular Pathology and Immunology, Molecular Physiology and Biophysics, Neuroscience, and Pharmacology.
Our graduate students and postdoctoral fellows are broadly trained scientists who are accustomed to teamwork and cross-disciplinary research. Upon completion of their training at VU or VUMC, our postdoctoral fellows and graduate students have pursued careers in academia, government, nonprofits, and the private sector. Our alumni are employed as scientists at academic institutions, government laboratories, and pharmaceutical and biotechnology companies around the world. In addition, many alumni pursue careers in diverse fields such as medical and science writing, clinical research management, regulatory affairs, business development, product and project management, science policy, consulting, and patent law. They are employed at medical communications companies, contract research organization, consulting firms, law practices, nonprofits, and government agencies.
Hire a Student or Postdoc for a Job, Internship, or Externship
Let our office assist you in finding the right hire for your business. The BRET Office of Career Development can help you advertise your opportunity, develop an externship and internship partnership, and even provide an information session depending on your needs. We are happy to facilitate your visit in whatever way fits your organization's needs. Contact ashley.brady@vanderbilt.edu for more information.
Post a job for biomedical sciences Ph.D.s
After completing the online form, your opportunity will appear on the BRET Office of Career Development Twitter feed and bi-weekly newsletter. It will stay online until you tell us to remove it. Please allow 24 hours for your job to post.
Host Information Sessions
If you would like to brand your company on our campus, please allow us to host you for an Information Session. This is a great way to get the word out about what your company does and why you would like to hire Vanderbilt-trained scientists.
Serve as a Guest Speaker for a Career Event
Throughout the year, the BRET Office of Career Development hosts numerous career and professional development events for graduate students and postdoctoral fellows. Industry-specific panels and career fairs are two venues available for employers to present career information. Numerous sponsorship opportunities are available for companies who wish to raise their visibility with our graduate students and postdoctoral fellows.
Conduct On-Campus Interviews
On-campus interviewing gives employers and students opportunities to connect through on-site interviews in the BRET Office of Career Development. Interviews are scheduled Monday through Friday during normal business hours (8:00 am – 5:00 pm) in Light Hall.
Can't make it to campus?
Reach out to students virtually! The Office of Career Development can facilitate Skype or video conference calls with students for long distance interviewing.
Contact Kate Stuart, Assistant Director, for more information on any of these opportunities.