About the BRET Office of Career Development ASPIRE Program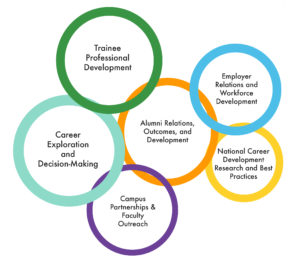 Established in 2005, the BRET Office of Career Development provides career and professional development enrichment activities for Vanderbilt University and Vanderbilt University Medical Center graduate students and postdoctoral fellows. The office was recognized in 2013 for its commitment to career development for biomedical sciences PhD students and postdocs through a BEST award, a $1.2 million, 5-year grant from the NIH Common Fund. The ASPIRE Program stands for Augmenting Scholar Preparation and Integration with Research-Related Endeavors.
Dr. Kathy Gould oversees the Office of Career Development ASPIRE Program, Dr. Kim Petrie is assistant dean of biomedical career development, Dr. Ashley Brady directs career engagement and strategic partnerships, Kate Stuart is assistant director, and Angela Zito is program manager of professional development opportunities.
Whether you are exploring your options or searching for a job or postdoc, we can help! This website provides an overview of the services we offer and serves as a gateway to a wealth of information related to professional development and careers in science.
Office of Career Development ASPIRE Program
Biomedical Research Education and Training
340 Light Hall
2215 Garland Avenue
Nashville, Tennessee 37232-0301
bret.career.development@vanderbilt.edu
615-875-8981
The BRET Office of Career Development serves PhD students and postdoctoral fellows in the biomedical sciences from Vanderbilt University and Vanderbilt University Medical Center. All BRET Office of Career Development events are open to the Vanderbilt community. ASPIRE activities, individual advising appointments, and other resources are specifically designed for BRET PhD graduate students and postdocs.
PhD Programs we serve:
Biochemistry
Biological Sciences
Biomedical Informatics
Biostatistics
Cancer Biology
Cell & Developmental Biology
Chemical & Physical Biology
Epidemiology
Health Policy
Hearing & Speech Sciences
Human Genetics
Interdisciplinary Graduate Program (IGP)
Microbe-Host Interactions
Molecular Pathology & Immunology
Molecular Physiology & Biophysics
Neuroscience
Pharmacology
Quantitative and Chemical Biology Program (QCB)
Postdoctoral Programs & Departments we serve:
Anesthesiology
Biochemistry
Biological Sciences
Biomedical Informatics
Biostatistics
Cell and Developmental Biology
Dermatology
Health Policy
Hearing and Speech Sciences
Kennedy Center
Medicine

Division of Allergy, Pulmonary, and Critical Care
Division of Cardiology/Cardiovascular Medicine
Division of Clinical Pharmacology
Division of Diabetes, Endocrinology and Metabolism
Division of Epidemiology
Division of Gastroenterology
Division of Genetic Medicine
Division of Hematology/Oncology
Division of Infectious Disease
Division of Internal Medicine
Division of Nephrology
Division of Rheumatology and Immunology

Molecular Physiology and Biophysics
Neurology
Pathology, Microbiology and Immunology
Ophthalmology & Visual Sciences
Orthopaedic Surgery and Rehabilitation
Otolaryngology
Pediatrics

Pediatric Cardiology
Pediatric Infectious Disease
Neonatology

Pharmacology
Psychiatry
Section of Surgical Sciences

Department of Cardiac Surgery
Department of Thoracic Surgery
Department of Plastic Surgery

Surgery
Vanderbilt University Institute of Imaging Sciences (Previously Radiology & Radiological Sciences)
If you do not see your program listed above, you may be served by other campus offices. The Vanderbilt Career Center has two Senior Career Coaches dedicated to serving graduate students. Kayla Smith works primarily with graduate students in the humanities and social sciences. Christina Keeton, PhD works with graduate students in the non-biomedical STEM fields. A full list of the graduate departments and programs that the Career Center serves can be found HERE and to schedule a meeting with your Career Coach, graduate students should login to DoreWays.