General FAQs
Where is the BRET Office located?
The BRET Office is located in Light Hall, on the 3rd floor, Suite 340. Advising appointments are also in Light Hall 340. If you are visiting campus for a seminar, the closest parking is available in the VUMC Hospital Parking garages (see map below). Please contact our office for details about visitor parking.
View Light Hall in Google Maps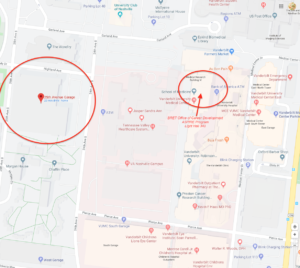 How can I best prepare for my individual advising session?
If you are preparing for or actively engaged in the job search, please send us your CV and/or resume in advance of the meeting, and bring two copies to the appointment. Also bring job search materials you may have, including job descriptions, cover letters, research structures, teaching philosophies, and other appropriate application material.
If you have taken the "myIDP Assessment" and want to discuss the results regarding the Career Match piece, please bring the results to the appointment.
How can I get involved with the ASPIRE Program?
There are many ways to be involved with the BRET Office of Career Development ASPIRE Program including committee opportunities, writing alumni spotlight articles, and other organization involvement. Please visit the "Get Involved" page for more information. Also, be sure to sign up for the biweekly e-newsletter for updates, announcements, and upcoming events.
Where can I learn more about the career field I am most interested in?
Please visit the first step in the Path to Career model, Exploration/Self-Assessment.
Can you connect me to an alumnus? How can I tap the BRET alumni network?
The ASPIRE Program encourages you to network using your own contacts, as well as reaching out via LinkedIn. We do not provide a listing of former alumni, and we do not make introductions for you. On the other hand, we do encourage you to reach out to alumni for informational interviews to gain more insight on particular career industries, different paths taken, and "real world" information about life post-Vanderbilt. For more on informational interviews, visit the Path to Career page.
Do you sponsor career fairs? When are employers coming to campus?
The ASPIRE Program does not sponsor campus career fairs. At various times throughout the year, employers will make site visits and host information sessions, and these events will be advertised for all interested to attend.
Even though we do not sponsor career fairs, we do invite employers to our annual career symposium and to make site visits.
Will you proofread my CV/resume?
The Office of Career Development will give you feedback on content, organization, and the formatting of your CV and/or your resume, but no, we do not offer proofreading services.
Do you have a folio or letter service?
No. The Office of Career Development does not provide a folio or letter service. Some students have used the online folio management system, Interfolio.
How do I join the LinkedIn group, Vanderbilt University Biomedical Research Graduate and Postdoctoral Trainees and Alumni?
The requirements for entrance into the Biomedical Research LinkedIn Group includes the following:
Must have completed research as a Ph.D. student, postdoc, or faculty member.
Must have a completed profile with education and experience information completed.
Must clearly show Vanderbilt in your profile history.
Must have at least 2 connections. (This confirms your identity and shows that you are using LinkedIn professionally and purposefully.)
The Biomedical Research group does not accept former or current Medical School students or recruiters.
I want to recruit physicians, undergraduates, and research assistants. Is this where I submit opportunities?
No. The ASPIRE Program works with scientists conducting research, NOT physicians from Vanderbilt's residency program, undergraduates, nor research assistants. If you are interested in recruiting physicians, please contact the Office of Graduate Medical Education. Other requests can be facilitated by Vanderbilt Human Resources.