PhD Career Stories

Our PhD Career Stories series this year will be virtual, offered via Zoom! Be sure to register for the sessions you which to attend by midnight the Thursday before in order to receive the Zoom login information.
---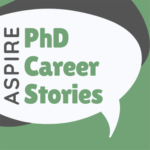 PhD Career Stories is a monthly seminar series about career options for PhD scientists. Speakers from a diverse range of exciting scientific careers present their career path and share insights from their professional experiences. Come hear about the career journey from Vanderbilt Alumni and professionals working in the field, and see if this is a career path that could suit you.
The series is sponsored by the BRET Office of Career Development.
For more information on the series, to suggest a speaker, or to become a member of the PhD Career Connections Planning Committee, please contact Angela Zito
Subscribe to the full series Google Calendar here, or add specific sessions by clicking the links in the table below!
Upcoming Session

2020-2021 Series Schedule
Date
Speaker
Topic
August 14, 2020

Rachel Skelton, PhD Director of Business Development for Pharma Partnerships
Leica Biosystems
Business Development
September 18, 2020

Karen Vieira, PhD
CEO, The Med Writers
Medical Communications
October 19, 2020

Panel discussion with former AAAS Science & Technology Policy fellows
Science Policy
November 6, 2020

Patricia Costa-Giomi, PhDExecutive Director International Regulatory AffairsUltragenyx Pharmaceuticals
Regulatory Affairs
December 11, 2020

Rachel Lippert, PhDNeuroCure Junior Research Group LeaderNeurocircuit Development and Function (NDF)German Institute for Human Nutrition
Research at a Research Institution
January 15, 2021

William M. Johnson Ph.D.Territory Manager II, NC/TNTakara Bio USA, Inc.
Technical Sales and Business Development
February 12, 2021
Sylvie Raver, PhDAssociate Director at the Milken Institute Center for Strategic Philanthropy
Think Tank
March 26 2021
Carl Darris, PhD, Tammy Sobolik, PhD, and Branden Stansley, PhD
Medical Science Liaisons
April 23 2021

Tim Shaver, PhD Computational Scientist at Inscripta, Inc.
Data Science