PhD Career Stories
Many of our PhD Career Stories series this year will be virtual, offered via Zoom! Be sure to register for the sessions you wish to attend by midnight the Thursday before in order to receive the Zoom login information.
---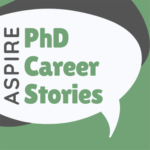 PhD Career Stories is a monthly seminar series about career options for PhD scientists. Speakers from a diverse range of exciting scientific careers present their career path and share insights from their professional experiences. Come hear about the career journey from Vanderbilt Alumni and professionals working in the field, and see if this is a career path that could suit you.
The series is sponsored by the BRET Office of Career Development.
For more information on the series, to suggest a speaker, or to become a member of the PhD Career Stories Planning Committee, please contact Angela Zito
Fall 2022 Schedule
All sessions are held at 10:00am in Light Hall 214 unless otherwise noted
Download the Fall 2022 poster here!
Date
Speaker
Topic
September 9, 2022

Eric Warren, PhD, co-owner of SEP Forensic Consultants
Forensic Science
October 7, 2022
**virtual via Zoom**

Joelle Martin, PhD Medical Science Liaison, Alimera Sciences
Medical Science Liaison
October 28, 2022

Claudia Low, PhD, SVP, Medical Director,Scientific Operations , Lead, Cadent

Medical Communications
December 9, 2022
a panel from Latham Biopharm Group

Dilek Dervishogullari, PhD, Associate Consultant
Laura Powell, PhD, Senior Associate Consultant
Deborah Roby, PhD, Associate Consultant
Consulting
December 21, 2022
4:30pm
*cosponsored by the ASPIRE Program in Molecular Medicine
Holli Dilks, PhD, Senior Director, Global Head of Field Medical
Foundation Medicine, Inc.
Medical Affairs
January 20, 2023
TBD
TBD
February 2023
TBD
TBD
March 2023
TBD
TBD
April 2023
TBD
TBD