Ph.D. Career Stories
Many of our Ph.D. Career Stories series this year will be virtual, offered via Zoom! Be sure to register for the sessions you wish to attend by midnight the Thursday before in order to receive the Zoom login information.
---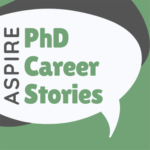 Ph.D. Career Stories is a monthly seminar series about career options for Ph.D. scientists. Speakers from a diverse range of exciting scientific careers present their career path and share insights from their professional experiences. Come hear about the career journey from Vanderbilt Alumni and professionals working in the field and see if this is a career path that could suit you.
The series is sponsored by the BRET Office of Career Development.
For more information on the series, to suggest a speaker, or to become a member of the Ph.D. Career Stories Planning Committee, please contact Angela Zito.
Upcoming Schedule
Date
Speaker
Topic
Location
September 8, 2023
Janice Ascano, PhD and Phil Ko, PhD, Vanderbilt Research Development and Support
Research Development
Light Hall 208
October 6, 2023
Courtney Copeland, PhD
Senior Consultant | Strategy and Analytics
Deloitte Consulting LLC
Consulting
Light Hall 208
November 3, 2023
Chastity Bradley , PhD, Founder and President, BioMed Writers, LLC and Emily Wooward, Ph.D., Director, Customer Engagement at Synchrogenix, a Certara company
Medical Writing
Light Hall 208
December 8, 2023
Salma Cruz, Ph.D., Research Scientist, Vertex Pharmaceuticals
Tyler Perfitt, Ph.D., Scientist, Atalanta Therapeutics
Francis Prael, Ph.D., Scientist, Cheminformatics/AI/MLScientist, Cheminformatics/AI/ML, Bristol Myers Squibb
Industry Postdocs
Zoom