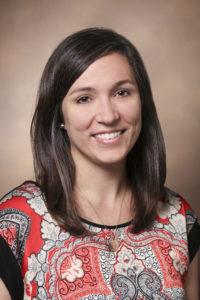 Kate Stuart
Associate Director, Office of Career Development
Director, Strategic Affairs and Events

---
Kate Stuart is the Associate Director for the Office of Career Development. She meets with graduate students and postdoctoral fellows, facilitates the annual Career Symposium, coordinates the Beyond the Lab podcast and video series, designs the annual report, teaches seminars, and manages the ASPIRE branding. Kate is a Gallup certified Strengths Coach and enjoys incorporating StrengthsFinder into career and professional development.
Kate is also the Director of Strategic Affairs and Events for the BRET Office. In this role, she works closely with the Senior Associate Dean of BRET, BRET Director of Operations, and other leaders to provide strategies for communication and events. She oversees the execution and planning of trainee-centered events, programs, internal affairs, and activities.
Kate has been with the BRET Office of Career Development since 2012 and at Vanderbilt since 2007. Prior to her time with BRET, Kate coordinated undergraduate student-alumni career engagement with the Vanderbilt University Alumni Association. Kate completed her undergraduate degree at Vanderbilt in Human and Organizational Development in 2004. Besides spending time with her family, gardening, and coaching basketball, Kate loves to carefully craft clever out-of-office messages to make emailers laugh when they miss her.
---