"All Different Forms of Diversity:" A conversation with Dr. Kim Vinson about diversity and inclusion at VUSM
by Emma Mattson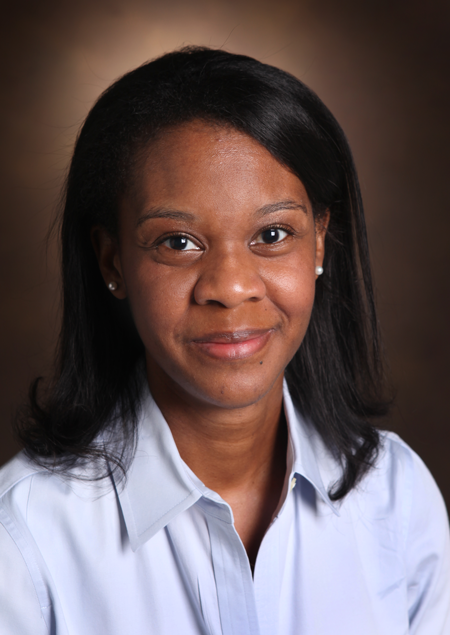 Today you can find Dr. Kim Vinson seeing patients at the Vanderbilt Voice Center or developing new diversity initiatives in her office in Light Hall. But Vinson's path to becoming an otolaryngology specialist and assistant dean for diversity affairs began more than twenty years ago, when she first joined the Vanderbilt community as a medical student in 1999.
"The medical school—at least the student body—was not very diverse at that point, but I felt like this was a very inclusive place even then," Vinson said.
Of her class of 104 medical students, only five were African American. When Vinson returned to Vanderbilt in 2008 for a laryngology fellowship, the campus had become more diverse, thanks in part to the VUSM Office of Diversity Affairs, which opened in the fall of 2002.
In 2011, twelve years after she first set foot on Vanderbilt's campus, Vinson joined the Office of Diversity Affairs as an assistant dean and immediately began working on initiatives to continue fostering diversity and inclusion in the medical school.
"Here at Vanderbilt, what makes me really excited is we really think about all different forms of diversity," Vinson said. "It's not just race and ethnicity. It is geographic origin. It is socioeconomic status. It is gender and gender identity and sexual orientation. It is all these other things that make us different from each other, and those things are also really valued here."
Vinson currently leads the VUSM Short Pipeline, which supports underrepresented minority students in the medical school application process. Each cohort includes four students: one each from Morehouse College, Spelman College, Fisk University, and Berea College. Starting from their first year of college, the students receive academic and professional mentoring, MCAT tutoring, and a summer research lab placement at Vanderbilt. This spring, the first cohort of students will graduate from the pipeline.
"The main thing is that they succeed in what they want to do," Vinson said. "If they end up here at Vanderbilt for medical school, that is excellent. But if they decide that maybe Vanderbilt isn't the med school for them, then we are working to make sure we get them where they want to be."
Vinson also runs the Undergraduate Clinical Research Internship Program (UCRIP), a research program associated with the Vanderbilt Summer Science Academy that combines research and clinical experiences for undergraduate students.
"I knew that, when I took [UCRIP] over, I wanted the students who participated in that to be very diverse in a lot of different ways," Vinson said. "It gave me the opportunity to try to put a group of students together that I thought would be able to learn a lot from each other during the summer."
Both the Short Pipeline and UCRIP focus on empowering disadvantaged students entering medical school, but the support doesn't stop once they arrive on Vanderbilt's campus. One form of on-campus student support comes from student-led organizations, like the Student National Medical Association (SNMA).
"In my four years, SNMA has really become a lot more active in the community and on campus, talking about what it's like to be a minority in medicine," fourth-year medical student Shama Kanu said. "It's really nice knowing that my classmates are always open to having those discussions. They're always well-attended and very good and thought-provoking discussions come out of that."
Besides advising student organizations like SNMA, Dean Vinson and Senior Associate Dean for Diversity Affairs André Churchwell provide ongoing mentorship to Vanderbilt medical students.
"I tell people, whatever it is you want to chat about or fix or change, come talk to me and we'll figure it out," Vinson said.
Over the past few years, underrepresented students have consistently comprised 18 to 22 percent of the incoming class, Vinson said.
"I think Vanderbilt is growing," second-year medical student Somto Ukwuani said. "Vanderbilt is figuring out exactly the ways that it can be better, but I also think that it is listening to its students and trying to make those changes."
This receptive, listening attitude points back to the very reason why Vinson has stayed at Vanderbilt for more than two decades.
"I really enjoyed my four years as a medical student here," Vinson said. "I worked really hard but was surrounded by people who really helped me be better and really loved Vanderbilt because of all the support it offered me as a student."
Learn more about how our values of diversity and inclusion influence the Vanderbilt medical school experience by visiting our Office for Diversity Affairs.