How to thrive in your first year of med school: 5 pieces of advice from second year LeAnn Lam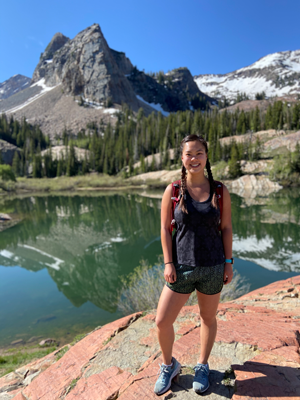 LeAnn Lam joined the Vanderbilt med school community in Fall 2019, after spending a year as a research assistant in OB/GYN clinical research at VUMC. Now a second-year med student, Lam shares five pieces of advice for the incoming Class of 2024.
1. If you have imposter syndrome, you're not alone!
Many students (including myself) initially feel overwhelmed by their classmate's accomplishments. I'm here to reassure you that you are meant to be here! It's easy to fall into the comparison trap, but recognize that everyone is coming from different backgrounds and probably feels the same way.
2. In order to care for others, you have to care for yourself.
Vanderbilt truly values your mental health and wellness. They recognize that in order to effectively take care of patients, you need to take care of yourself. Having that kind of support is unique in such a demanding, fast-paced field. I am grateful to be surrounded by a community that prioritizes wellness.
3. Get comfortable being uncomfortable.
Growth happens when you push yourself out of your comfort zone. Med school is going to be hard. Sometimes we lose sight of why we chose this path in the first place. When things feel overwhelming, pause and reflect on the amazing journey you're on. Patients come to us at their most vulnerable times and trust us to take care of them. When some days seem tough I remind myself of this quote – "When you're working hard the days are long, but the years are short". These four years will fly by, so don't forget to take a step back now and then and see how much you've grown!
4. You will never be done, and that's okay.
One of the hardest transitions from undergrad is the wealth of information you're expected to learn. Dr. Beth Ann Yakes, one of the college mentors, shared a piece of advice early on that has stuck with me: you will never be done, and that's okay. I eventually came to understand that there will always be something I could be studying, but that's not necessary to be successful. It sounds counterintuitive, but making time for hobbies and things that add joy to your life will make you way more productive.
5. Studying is better together.
One way to make studying more manageable is study groups. Your classmates will be some of your best teachers. Studying with my friends made time fly by and I ended up retaining a lot more information. Take advantage of the collaborative study rooms in EBL to draw out flow charts on the whiteboards (or in the midst of the COVID-19 pandemic, Zoom study groups are a lifesaver!). Go into anatomy lab with classmates and quiz each other. Lastly, don't be afraid to ask for help. The course directors want you to succeed, but they can only help you if they know you need help.
Finally, welcome to the Vanderbilt community!
Vanderbilt's community is unmatched. It truly feels like a family here. Upper years have gone out of their way to welcome us, help us, and cheer us on. I've also grown a deep appreciation for the teaching atmosphere at Vanderbilt. The faculty and physicians here have a genuine love for teaching. They create a safe space to ask questions, make mistakes, and learn. They want to help you become the best physician you can be.
To provide some context on how I ended up at Vanderbilt, I spent one year as an OB/GYN research assistant at VUMC before starting med school. Before that I did an internship at Vanderbilt through the UCRIP program, which is directed by Dr. Kimberly Vinson. That internship is where I worked with Dr. Sarah Osmundson, a Maternal Fetal Medicine physician in the OB/GYN dept, which eventually led to me working with her for my research year.
Simply put, I truly owe the UCRIP program and Dr. Vinson for seeing my potential and introducing me to Vanderbilt. I attended my state school in Utah and didn't really envision myself at a top 20 school. Dr. Vinson and Dr. Osmundson believed in me and opened up so many opportunities, and it's the reason why I'm at Vanderbilt medical school. I know for a fact I wouldn't have known about Vanderbilt if I didn't do that program (I actually didn't even know where Vanderbilt was located!). People like Dr. Vinson and Dr. Osmundson are what make Vanderbilt such a special place.
I've also been inspired by Vanderbilt's culture of leadership and advocacy. We are unique to have a community where student input is truly valued and taken into account. They recognize that medical students have the power to create real change in their community, and I've been impressed with the amount of support from faculty. It truly creates an atmosphere of innovation and collaboration.
Lastly, I want to give a warm welcome to the first years. I am so happy that you chose Vanderbilt, and I cannot wait to grow with you and call you my colleague and friend. I promise you will not regret your decision. I know it's one of the best decisions I've made.