Meet the newly elected, first-year leaders
by Emma Mattson
We couldn't be more excited to welcome the twelve new, first-year leaders on the Council of Class Officers (CCO). Besides generally representing the first-year class, these leaders will host virtual events, provide feedback on curriculum, and collaborate with other CCO leaders on VUSM-wide initiatives.
Curious about your new representatives? We talked with President Saba Rehman, Vice President Shreyas Krishnapura, and Treasurer-Secretary Hannah Hund to hear about their inspiration for these positions and their priorities for the upcoming year.
Meet the president: Saba Rehman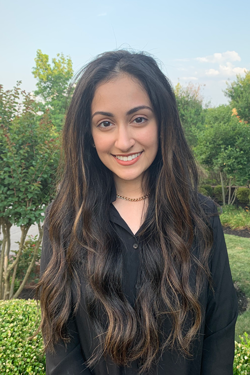 A proud Nashville native and Double 'Dore, Saba Rehman graduated from Vanderbilt last December with a BA in molecular and cellular biology. Rehman said she never intended to run for student government in med school, but the sense of community she immediately experienced at VUSM motivated her to consider an elected position.
"I'd say the medical school in particular just really felt like where I belonged," Rehman said. "In my decision to run for president, what was important to me was that it just felt like family, and I felt like it was a role that I could contribute toward."
Since the pandemic has added extra impediments for getting to know her peers, Rehman is making class unity her number one priority this year.
"Regardless of whether COVID is going on or not, class unity is super important because personally I think you can only be successful when you're in rhythm with the people around you," Rehman said.
The first-year class has already communicated one priority, Rehman said: cultural humility. For example, students have demonstrated interest in learning more about how diseases manifest themselves in patients from a wide variety of backgrounds, and Rehman plans to prioritize this goal throughout her leadership.
"You're not going to know every culture, and there's no way that you can be an expert on all cultures," Rehman said. "But [you should be] willing to learn from other cultures and adapt yourself to how care needs to be provided."
Meet the vice president: Shreyas Krishnapura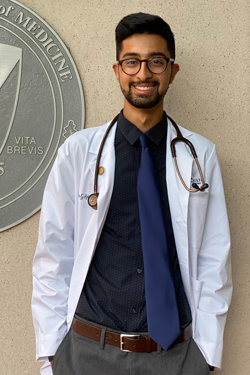 Krishnapura would be the first to say that he never saw himself in student government.
"At the beginning of this [election] cycle, when all the information was coming out, I thought this role was the furthest thing from what I wanted to do," Krishnapura said.
But when Krishnapura learned more about the different CCO roles, the vice president's service and organization responsibilities convinced him to put his name in the running.
"Trying to engage not only certain members of my class, but the entirety of my class, in some kind of civic engagement, something to give back to the community— that seems like the perfect avenue for me to impact as much change as possible," Krishnapura said.
The new vice president traces his love for service back to a life-changing experience at age 13, when he travelled with his family to India for a traditional coming-of-age ceremony. While he was there, he spent a few hours serving at a school for the blind that a family friend had started.
"I was just so blown away by the strength and passion for education that these students showed," Krishnapura said. "The questions that I would ask them— and, mind you, a question not in their native language —they were able to answer immediately."
The students' commitment to their own education inspired Krishnapura to continue serving the school, even from afar. Throughout high school, Krishnapura fundraised a few thousand dollars to buy books and other supplies for the school, and in undergrad, Krishnapura began recording audiobooks on his own and sending the recordings over to the students in India.
Now he's excited to employ his passion for service in Vanderbilt's unique community— the very factor that brought him to VUSM in the first place.
"That's why I was so attracted to come here: this immense sense of community," Krishnapura said. "They don't just mean this as something to put on the wall, 'Oh, we have a strong community.' They truly work towards having a strong community."
Meet the treasury-secretary: Hannah Hund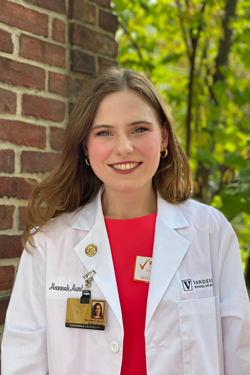 After a year in venture capital investment, Hannah Hund brings real-world experience to the treasury-secretary position.
"I did a lot of work analyzing businesses in both the agriculture and healthcare space for whether it was a good financial investment to work with those firms," Hund said. "So I thought that, given some of my finance background, it would be a good way to use my skills for the med school."
Connections between the business world and medicine fascinate Hund, and as a future physician, she hopes to impact how money moves in the healthcare space.
In the short-term, she turns her attention to the CCO budget. She aims to maintain good communication, financial transparency, and a well-managed budget— three tenets of her campaign platform.
"I'm most looking forward to working with the incredible team," Hund said. "Saba, Shreyas, and everyone else on CCO that I've met so far are just really incredible people."
"If there were anyone who would be able to come up with ways to connect the class, despite our inability to be together in traditional ways, I think this team can do it."