"You have more power to change the world than you think": A physician's role in the fight against misinformation
by Emma Mattson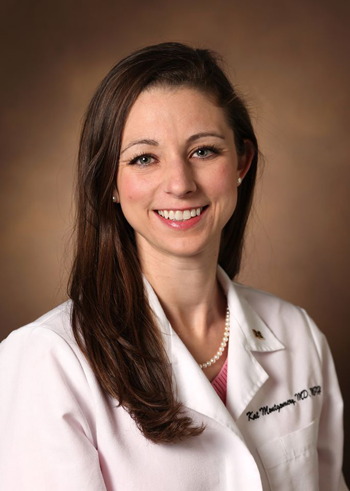 "We all know more than we think we know about the current situation" Kathleen Montgomery, MD (VUSM '15) advises current med students, "and we can really be helpful."
Montgomery, who spent her residency and fellowship years in VUMC's pathology department, made headlines this summer for a Facebook post she wrote in response to a conspiracy theory video released in early May.
Montgomery's post, which was shared more than 200,000 times, refuted claims made in the video and pointed readers towards reliable sources of scientific information. Montgomery, however, said she never expected the post to go viral.
"It was the first day that [the video] came out, and my friend [said], 'What do you think about this?' I wrote this huge post and posted it right away within a few hours of the video coming out," Montgomery said. "Because I was the first one, I think that's why it was shared so many times: there was just nothing out there at the time."
Within five days, the post had been shared thousands of times, and Montgomery was receiving responses from people across the globe.
For Montgomery, this was like discovering a superpower she never knew she had.
Before the post went viral, Montgomery had felt most comfortable staying within her own specialty, pathology. The popularity of her post, however, demonstrated that her experience in med school and her Master in Public Health degree both prepared her to help the public in other ways as well.
"Now I [understand] I'm a doctor who has two extra years of epidemiology training who has a lot of ability to help people understand what's out there about the current pandemic," Montgomery said.
Because of the number of responses (both positive and negative) she was getting to the post on her personal profile, Montgomery decided to start a public-facing Facebook page where she collaborates with physicians and infectious disease experts to answer COVID-related public health questions.
Even doctors who are not specially trained in infectious diseases can help the fight against misinformation, Montgomery said.
"Through medical training, we go through thinking we're at the bottom of the totem pole, where we don't know anything. We don't know enough to be a voice that's ready to be heard," Montgomery said. "But in reality, we know so much more than we think we know."
"Talking to my lay, non-medical friends and family, it becomes very quickly apparent how much more I know, even as a non-COVID expert, than they do about the way that viruses work and the way that vaccines are developed and the way that viruses spread," Montgomery said.
What's more, the media often oversimplifies COVID-related research findings, Montgomery said, which only fuels the rampant spread of misinformation on the internet.
"My whole goal in this has been to try to translate what the doctors know about coronavirus to something that lay people can understand as well," Montgomery said.
In fact, Montgomery went on to publish an opinion piece in The Tennessean in mid-June, which discussed how she entered the fight against misinformation and encouraged fellow physicians to follow suit.
"None of us can win the war against misinformation alone, but I urge my colleagues in medicine to join me in carrying the torch," the piece reads in part. "Now more than ever, lives depend on it."
Now a private practice pathologist at Spectrum Health in Grand Rapids, Michigan, Montgomery has a few pieces of advice for current medical students.
First, don't underestimate the power of your education.
"You know more and you have more power to change the world than you think, even as just a single doctor," Montgomery said.
Second, don't be afraid to stray off the beaten path.
"It's easy in medicine to fall onto this train track where they tell us what the next step is: from undergrad to med school, from 3rd year to 4th year, and then you go from 4th year to internship, and then to residency and then fellowship and then you find a job and someone hires you and that's your life," Montgomery said.
Even while you're following the typical journey, don't lose sight of the skills you're already equipped with.
"Whether that's fighting misinformation on the internet or whether that's mentoring pre-medical students or whether it's volunteering your time at a free clinic nearby, there is so much we are equipped to do," Montgomery said.