Sunday Coffee Cup and Kudos with First-Year Mason Alford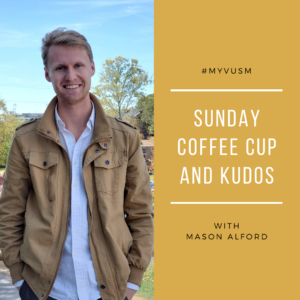 We spoke with first-year medical student Mason Alford on creating his Sunday Coffee Cup newsletter. Here's what he shared about its creation and reception by fellow classmates.
Tell us a little about yourself.
My name is Mason Alford, and I am the President for the Class of 2023 here at VUSM. I grew up on the sunny shores of Malibu, California, where I spent time with friends surfing in the Pacific and exploring the rolling hills that surrounded my childhood home. After graduating high school, I attended Stanford University to study human biology. Some highlights from college include studying abroad in Oaxaca, Mexico, and volunteering for the student peer counseling center. After college, I moved to England to obtain my Master's degree in Medical Anthropology at the University of Oxford. I also spent time working as a coffee barista in San Francisco before starting medical school!
What is the Sunday Coffee Cup? Who gets it?
Sunday Coffee Cup is a little newsletter that is sent out to the entirety of the first-year medical school class. It is a festive communication where everyone can receive updates on the happenings of their VUSM community, from bonfires, to halloween festivities, to wine gatherings! The real pièce de résistance of the Sunday Coffee Cup email is called the Kudos section, in which the class submits anonymous compliments (e.g Kudos to Eden for always being a warm presence in the hallway) that are posted at the end of the newsletter. In short, it is a place to lift each other up and keep the community feeling close.
What made you start it?
The idea was actually inspired by my Mom, who sends out sweet messages to our family on Friday mornings, which have the subject line "Coffee Cup Email." I wanted to branch out and do things differently, so I send my coffee cup emails out on Sunday, not Friday.
How has it been received by your classmates?
I think it has been received very well! It has been touching to see the outpouring of support and encouragement that students have shown in the form of the Kudos! I've had many members of the class mention that the Coffee Cup emails are a nice moment in their week to stay informed and stay connected.
How are office hours going?
Office hours are going really well! Above all, I want to be a presence in the class that is approachable and ready to listen. In the whirlwind of school and life, I constantly fall short of where I would like to be in this arena, but office hours are a way to structurally hold myself to being present and available to the class. All of my classmates also know that they can come talk to me about anything, in or outside of office hours!
Tell us more about the kudos box.
The kudos box is an attempt to make the submission of kudos as easy as possible. It is a decorated box that sits in the student lounge (right by the microwave) where students can physically write and submit small encouragements to their classmates. I figured that even the energy it takes to click on a link and fill out a survey can sometimes be an obstacle, and I wanted to minimize the barriers that stood in the way of people taking time to lift each other up.