M1 Harrison Thomas takes lead role in the mentoring program that brought him to VUSM
by Emma Mattson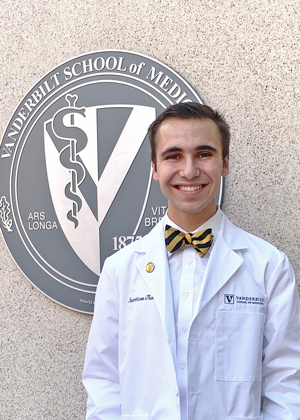 When Harrison Thomas registered as a junior for a Vanderbilt pre-med mentoring program, he expected to learn about writing a strong personal statement. He expected to practice his interviewing skills. He expected to receive good advice through the whole pre-med process.
What he didn't expect was that two years later he would be taking leadership of that very mentoring program.
The First Mentoring Cohort
In the fall of 2018, Thomas (then a Vanderbilt junior) was paired with mentor Kyle Langford (then an M2 student) in the first round of the Vanderbilt Health Professions Advising Office pre-med mentorship program. Their pairing made sense: both students came from similar geographic backgrounds and had both majored in biomedical engineering at Vanderbilt.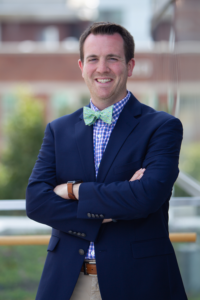 During the spring of Thomas's junior year, they met a few times to discuss the application process. During interview season the next semester, Langford connected Thomas with current med students at schools across the country that Langford knew from his years in undergrad.
"Every step of the way, whenever I had a question, Kyle was always available to answer," Thomas said. "If he didn't know the answer, he was able to ask someone else."
In fact, Langford was one of the first people Thomas told about his acceptance into VUSM, and Langford's candid description of the warm VUSM community was a key factor in Thomas's decision to stay at Vanderbilt for medical school.
Passing the Torch
After serving for two years as the mentoring program's student lead, Langford now prepares to transition into residency in 2021. Naturally, he began looking around for willing and able hands to take leadership in the program this fall— and he didn't have to look far to find them.
Thomas, now an M1, currently co-leads the program this year alongside M3 Veerain Gupta. Both students are uniquely prepared to take on the new responsibilities, Langford said.
"Veerain has a lot of interest and has done a lot with medical education and mentorship in the School of Medicine," Langford said. "And then Harrison, of course, is from Vanderbilt and went through the mentee side of the process, so I thought he would make a great addition."
Gupta and Thomas have already begun soliciting mentor and mentee interest for this year's cohort.
Per Langford, the number of interested students grows every year. By mid-November, more than 75 undergrad students have signed up for the program, and around 45 med students have expressed interest in serving as mentors. Each mentor typically takes on two mentees, Langford said.
In fact, the program has never had trouble finding enough med students to serve— a fact Langford attributes to the wellness culture at VUSM.
"We have older students that help younger students get acclimated to medical school, help figure out what their specialty should be, and help figure out how to navigate new challenges," Langford said. "A lot of people saw this [program] as an extension of that: this is an opportunity to meet with undergraduates."
For Thomas, the program is a way for med students to share the highly valuable knowledge they gained during a lengthy application process.
"We've learned a lot, and we feel compelled to pass down that information and knowledge. If we keep it to ourselves, it doesn't help anyone," Thomas said. "We put a lot of time into the process, so to be able to share that experience with someone else is the right thing to do."
At the end of the day, the med school application process can be challenging, but it doesn't have to be isolating or lonely.
"I just hope that [applicants] know that there are people out there wanting to help them and support them and cheer them on," Thomas said.