A Centennial Tribute: VUSM Grad Gordon Petty, MD ('50) turns 100
by Emma Mattson
Gordon Petty, born September 19, 1920, celebrates his hundredth birthday this Saturday, September 19. His century of life is marked by medical excellence, exemplary service to his community, and unforgettable influence on all who meet him.
Dr. Petty has lived through the Great Depression, a world war, the terms of 17 American presidents, and now a pandemic. We talked with the friends and family of this VUSM '50 alumnus to learn more about his life and continuing legacy.
Childhood in Carthage, TN
Born only two years after the end of the first World War, Gordon Petty spent his elementary and high school years in Carthage, TN, roaming around town and serving the community in the Boy Scouts of America, Troop 367. Petty's family has deep roots in Smith County, of which Carthage is the county seat, and his dedication to the Carthage community remains strong to this day.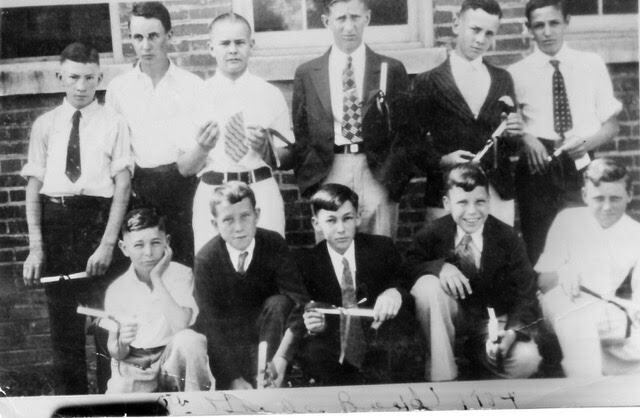 After graduating high school in 1938, Petty studied math and chemistry at Cumberland University. During World War II, he served in the Navy aboard a submarine in the Pacific and then used his savings and the benefits of the GI Bill to fund his medical school education— at the Vanderbilt University School of Medicine.
Early Medical Practice
Petty proudly graduated from Vanderbilt with an MD in 1950 and jumped into independent practice on July 1, 1951. His office would remain open for the next fifty years, including the last day of the twentieth century.
When Petty began practicing, he was the youngest doctor in Carthage, but he quickly made a reputation for himself. Since the town had no hospital, Petty practiced from a home office and often made house calls.
"I drove a 1948 DeSoto. I was running day and night. I kept a blanket and pillow in the back seat because I was doing so many calls and sometimes I would stop and take a nap," Petty recalled to The Carthage Courier back in 2016. "I guess I went to every corner of Smith County and nearly every house."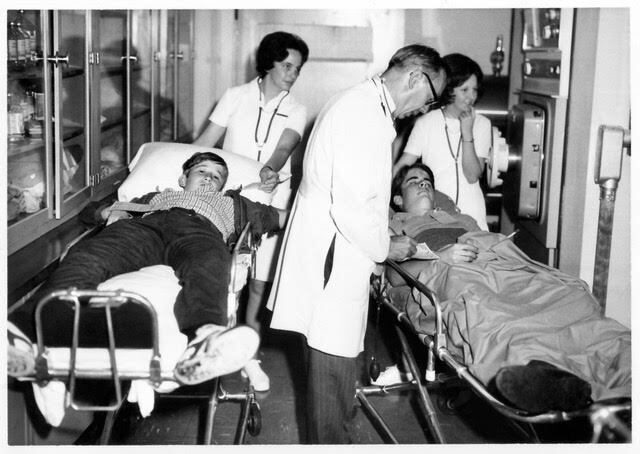 Petty was always on duty, and when he received an emergency phone call he'd back out of his driveway with such speed that his headlights could be seen flashing down the street.
"Jack of All Trades" Physician
In the late 50's, Petty began practicing in tandem with his med school classmate Dr. Hugh Green. By 1954, they had helped to establish Carthage's first hospital.
Not even the initial lack of a hospital could stop Petty from providing high-quality care to his patients— including those who required minor surgeries! Petty's surgical skill is one reason his stepson Mike Maggart describes him as a "jack of all trades" physician.
"To me, one of the most amazing things is how doctors like him came out with only a year or two of extra training and could go to work doing extraordinary things," Maggart, himself a cardiothoracic surgeon, said.. "He was doing general surgery, tonsillectomies, delivering babies like crazy—as a general practitioner!"
Though he could be stern when he wanted to be, Petty often won his young patients' hearts with a bit of good, old-fashioned fun.
Marian Cothern, a long-time family friend of the Petty's, recalls her tonsillectomy in Petty's office at age 5. When she found she was to have an operation, Cothern began throwing a fit in the doctor's office. But when Petty arrived, he knew just how to pacify her.
"He said, 'Come on, you want to ride a horse?' And I can remember going down the hallway on his back and him galloping like a horse," Cothern said. "As far as how he got me in the operating room, I don't remember that. But when I came out, Mother said he had me in his arms."
After that, Cothern recalls, she stubbornly refused to see any other doctor in town.
The Famous Dr. Petty Sense of Humor
Just about everybody in Carthage has a funny Dr. Petty story to tell.
Brian Reid, another Carthage native, worked as a nurse-anesthetist with Petty for a few years and recalls an incident when Petty was called to deliver the baby of a family friend who raised Dachshunds.
The delivery appeared to be going smoothly, until the moment Petty brought the baby out to show the father.
"Somebody had a Dachshund that they snuck in the back door," Reid said, "and when he went out after the delivery to show the daddy the baby, he had a dachshund wrapped in a blanket, instead of the real baby!"
In typical Petty humor, the doctor has also left his mark on a certain street in Brentwood.
According to Reid, Petty was one of a group of doctors who purchased a tract of Brentwood property as an investment back in the 1960s. When the tract was sold, the developers discovered that Petty had included a clause in the contract stating that, if the land was ever sold to be developed, one of the streets must be named after him.
To this day, tourists driving through Brentwood might find themselves on Gordon Petty Drive, running north-south on the east side of I-65.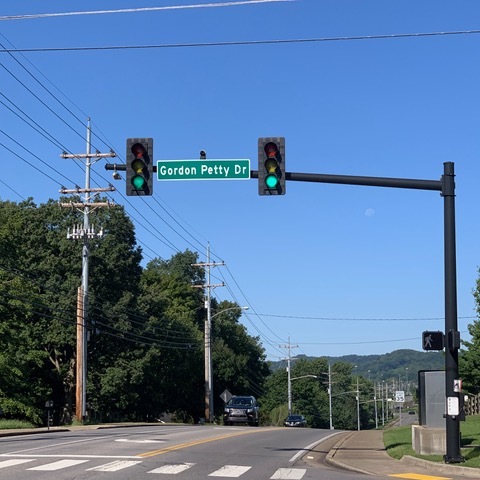 Given these stories, Petty's advice for a long and happy life is perhaps unsurprising: laugh!
"After all of his endeavors in life, one of his greatest quotes is 'Always remember to laugh. Laughter is the best medicine of them all!'" said Petty's granddaughter, Lindsey Dixon.
A Legacy of Generosity
Still, Petty's friends and family can tell just as many touching anecdotes as funny ones.
A life-long churchgoer, Petty seems to emanate generosity naturally out of his deep commitment to medicine and his personal faith.
Cothern, for example, recalls that the doctor kept boxes of canned food in the back of his car when he made house calls. Even if he knew the family wouldn't have money to pay him, he would make the visit anyway. Then, after providing the necessary medical care, he would call the kids outside and fill their arms with cans of corn, beans, and pork.
Another tradition— this one at Christmastime —highlights what kind of father Petty strove to be. Each Christmas Eve night, he, his wife Betty, and their two sons, Sam and Dave, would bring fruit and toys at the doors of a few families that he knew would not be having very much Christmas that year.
"He said, 'I always wanted our boys to see and to appreciate what they had and always realize that when you have, you're supposed to share with those who don't have,'" Cothern recalls.
Joy and Sorrow in Family Life
A caretaker by profession, Petty has been called upon several times to become a caretaker in his personal life, as well. His first wife, Betty, died in her middle age from an unexpected stroke. Years later, when Petty married again, his second wife, Dot Gilbert, was diagnosed with lung cancer and passed away only a few years into their marriage.
Instead of turning to bitterness from these tragic losses, Petty channelled even more love and energy into his community. And in 1998, he would marry once more, this time to Sue Maggart, his long-time neighbor and friend.
Mike Maggart, Sue's son, remembers the years that followed as some of the happiest in his mother's life.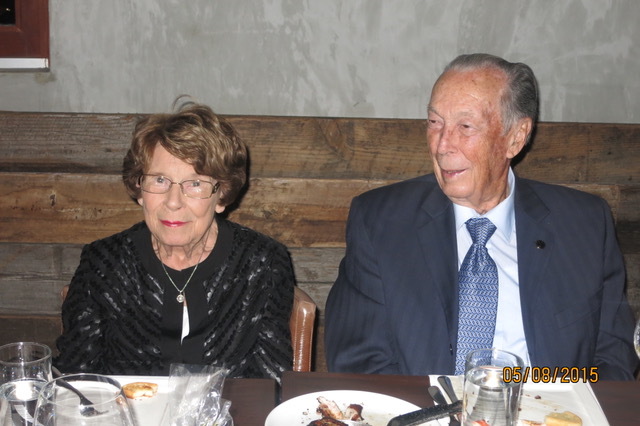 "When you're 80 years old, there's not a whole lot of time for dating, so they didn't waste any," Maggart said. "They had a wonderful, wonderful marriage. He and Mom said, 'We're going to start having fun. Every single day we're going to do something fun.'"
The newlyweds went on a slew of cruises, made friends across the globe, and generally lived life to its fullest.
As Sue approached her late 80's, the couple's adventures were curbed by illness. Sue developed a progressive neurological condition that affected her balance and strength. Petty, however, would not even hear of entrusting her to a nursing home.
Instead, with the help of Jo Sponaugle and Marian Cothern, two women from the Carthage community, Petty tirelessly cared for Sue at home until her death in 2018.
"He never complained and he was at her side in their home until her last breath," Maggart said. "I think this story speaks more about the character of the man than anything else I could say."
Passing the Torch to the Next Generation of Community Medical Experts
Petty was the first of three generations in his family to attend VUSM: his son David Gordon, Jr. (MD '83), his stepson Mike Maggart (MD '78), and his grandson Michael Maggart (MD '15) all spent their med school years here in Nashville.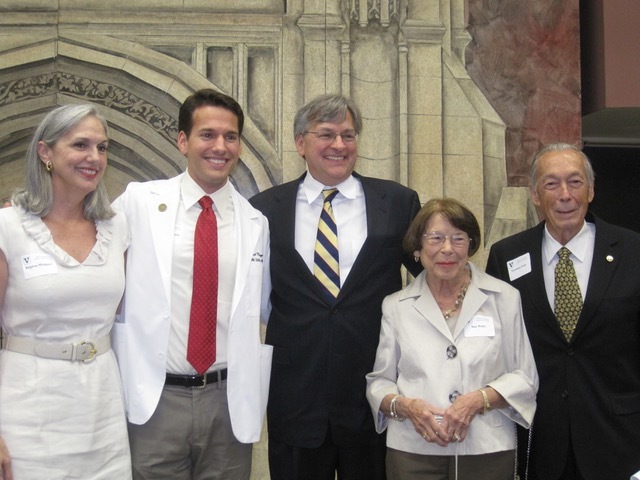 Lindsey Dixon, Petty's granddaughter, also cites Petty's example as inspiration for her veterinary career.
"As a small child one of my favorite things to do was spend the night at Daddy Gordon's house," Dixon recalls. "You see, if we spent the night with him, there was always a chance that we would get called in for an emergency. We would sit at his little round, yellow rimmed kitchen table and stack blocks and play cards as late as we wanted."
If Petty was called in for an emergency— and he often was —Dixon would often accompany him to watch him work.
"I didn't realize those would be memories that would stay with me forever. I also didn't realize that I was getting a love of medicine," Dixon said. "He was always so kind and truthful with patients. He never seemed in a hurry."
These traits—honesty, generosity, and community service—motivated Dixon to pursue medicine for herself. In high school, she and her brother worked for Petty in his Carthage clinic. In college, she soon found herself faced with a difficult choice: should she pursue a career as a doctor or as a veterinarian? When she visited her grandfather to ask for advice, he would only answer, "Do what makes you happy."
That's just what Dixon did. After graduating from vet school, she made her way back home to open a practice in her hometown of Carthage, just as her grandfather had had.
Life as a Centenarian
These days, Petty still lives in the very same house that he built when he first moved back to Carthage as a new doctor. He tends his vegetable garden, walks to greet his neighbors, and visits Dixon in her veterinary clinic. On Sunday nights, he still hosts bridge nights for a group of friends.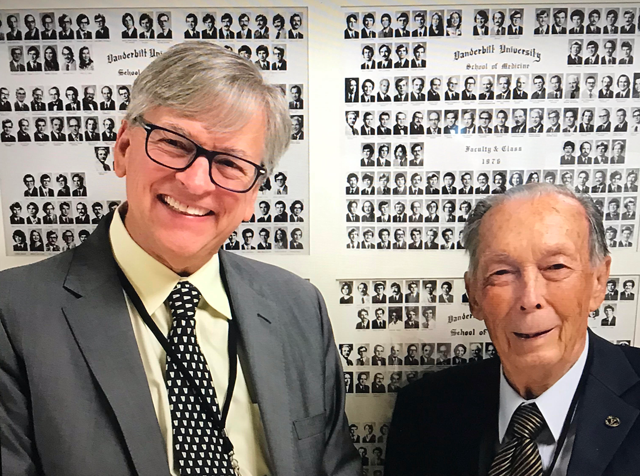 "Everybody's always asking, 'What is your secret to longevity?'" Cothern said, "and he says, 'The good Lord. And I never smoked, I never drank, and I always smiled.'"
Hundreds of patients in Smith County point to Petty as "their" doctor, and his personality continues to hearten all those he comes in contact with.
As Dixon put it, "The thousands of babies he delivered can be counted, the broken bones are numbered, but the humble and kind spirit that he shows is the true statement of his legacy."
After a full century of life, Petty is remembered as an expert physician, unforgettable storyteller, loving husband, and loyal friend. We at Vanderbilt wish him all the best on his birthday.