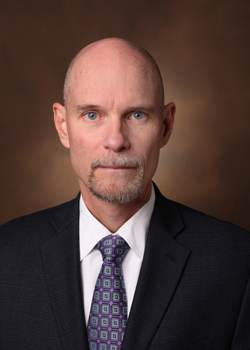 Mark Wallace, Ph.D.
Professor of Hearing and Speech Sciences
Louise B. McGavock Chair

---
: 7110 Medical Research Building III

Laurienti PJ, Burdette JH, Maldjian JA, 

Wallace MT

. 

Enhanced multisensory integration in older adults

. 

Neurobiol. Aging [print-electronic]

. 2006 Aug; 27(8): 1155-63. PMID: 16039016, PII: S0197-4580(05)00160-0, DOI: 10.1016/j.neurobiolaging.2005.05.024, ISSN: 1558-1497.

Wallace MT

, Ramachandran R, Stein BE. 

A revised view of sensory cortical parcellation

. 

Proc. Natl. Acad. Sci. U.S.A [print-electronic]

. 2004 Feb 2/17/2004; 101(7): 2167-72. PMID: 14766982, PMCID: PMC357070, PII: 0305697101, DOI: 10.1073/pnas.0305697101, ISSN: 0027-8424.

Wallace MT.. The development of multisensory processes. Cogn. Processing. 2004; 5: 69-83.

Wallace MT.. Cross-Modal Neural Development. In: Connectionist Models of Development, P. Quinlan (ed.). Psychology Press. 2003; 311-43.

Roberson G, Wallace MT, and Schirillo J.. The sensorimotor contingency of multisensory localization correlates with the conscious percept of spatial unity. Behav. Brain Sci. 2002; 24((5)): 239-40.

Stein BE, Wallace MT, Stanford TR, and Jiang W.. Cortex governs multisensory integration in the midbrain. Neuroscientist. 2002; 8: 206-314.

Kadunce DC, Vaughan JW, Wallace MT, and Stein BE.. The influence of visual and auditory receptive field organization on multisensory integration in the superior colliculus. Exp. Brain Res. 2001; 139: 303-10.

Stein BE, Jiang W, Wallace MT, and Stanford TR.. Nonvisual influences on visual information processing in the superior colliculus. Prog. Brain Res. 2001; 134: 143-56.

Stein BE, Wallace MT, and Stanford TR.. Development of multisensory integration: transforming sensory input into motor output. Mental Retardation and Developmental Disabilities Research Reviews. 1999; 5((1)): 72-85.

Lovelace CT, Stein BE and Wallace MT.. An irrelevant light enhances auditory detection in humans: A psychophysical analysis of multisensory integration in stimulus detection. Cogn. Brain Res. 17: 447-53.
---