UM Med School Postdoc Recruitment event "Postdoc Preview"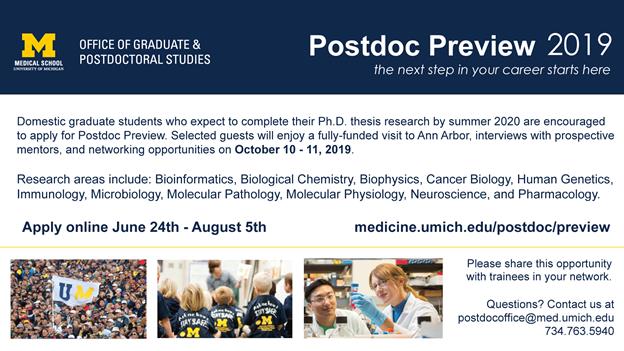 The University of Michigan Medical School will host its next postdoctoral recruitment event October 10-11, 2019. We kindly ask that you explore Postdoc Preview and share this information with trainees, colleagues or departments that are especially strong in your field.
Postdoc Preview introduces upper-level graduate students in the biomedical sciences to the excellent research and training opportunities here at Michigan. During a fully-funded visit, recruits interview with two or more prospective mentors, learn about our NIH-funded training programs, and network with current postdocs (tentative schedule here). Applicants are selected from a national pool of highly qualified individuals who expect to complete their thesis research over the course of the next year and be U.S. citizens or permanent residents or be currently enrolled in a U.S. graduate institution. Our office sponsors and manages the logistics of their visit.