Opportunity Begets Opportunity: Leveraging Connections to Gain Invaluable Career Experiences
This article was originally published in Results & Discussion, Issue 7, Spring 2018. 
By Heather McCartney, Graduate Student
As the stress of preparing for (and passing!) my qualifying exam started to dissipate, I began to wonder what type of career I could have after I finally earned my doctorate. Aiming to get exposure to as many different career paths as possible, I started attending BRET Office of Career Development Ph.D. Career Connections – a monthly seminar series highlighting the diversity of career paths available to biomedical scientists as experienced by the invited speakers, many of whom are Vanderbilt alumni.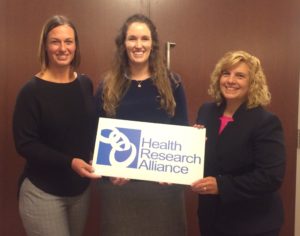 After one such seminar about working in scientific nonprofit organizations, I felt an immediate connection and decided to apply for a remote, part-time internship with the Health Research Alliance (HRA) offered through the BRET Office's ASPIRE Internship program. Prior to submitting my application, I discussed with my faculty advisor why I thought this opportunity would be invaluable to me in exploring career opportunities in the scientific nonprofit world and why this career path appealed to me. He was very supportive of my desire to participate in the internship, and encouraged me to apply.
HRA is a collaborative organization of nonprofit research funders committed to maximizing the impact of biomedical research and improving human health. They have a diverse and engaged membership of over 80 organizations committed to participating in various working groups that aim to tackle the shared problems that nonprofit organizations encounter in regard to funding biomedical research. HRA member organizations have diverse disease foci, group sizes, and selection criteria for funding research.
I became HRA's first intern and was tasked with helping to coordinate the biannual members' meeting in Chicago in September of 2017. Although I had attended several scientific conferences prior to the internship, I had no real understanding of the extent of the work that goes into planning any type of large meeting. Thankfully, I worked in collaboration with an experienced Program Committee – a group comprised of 22 leaders from various nonprofit organizations. HRA's Executive Director, Maryrose Franko, Ph.D., and Director of Operations, Annette Huetter – to develop the sessions, from conceiving of ideas, to inviting speakers, to addressing logistical considerations. Developing the agendas and coordinating the conference calls for weekly Program Committee meetings allowed for me to establish familiarity with top thought leaders from a variety of nonprofit biomedical research-funding organizations, such as Alzheimer's Association, American Cancer Society, Burroughs Wellcome Fund, and many more.
The culmination of my internship was attending the September Members' Meeting in Chicago, about 6 months after I had started. I was finally able to meet the individuals with whom I had been interacting for months in what proved to be an amazing learning experience and the best networking I could have imagined. The HRA membership is an impressive group of brilliant individuals from unique scientific backgrounds who are committed to collaborating, both at the Members' Meetings and beyond, to finding solutions to the myriad problems nonprofit organizations face in their goal of reducing disease burden.
My experience was so positive – both for me personally and for the HRA – that I was invited to participate in a second project. This time, I took on the challenge of generating robust data-sharing policies in grant agreements, an issue that was brought up at the September Members' Meeting. Although every HRA member organization funds biomedical research, they all approach the topic of data sharing requirements differently. I am currently working to generate a dynamic data sharing language resource that member organizations can use to build their own robust data sharing policy based on the best practice of other organizations.
So far, this specific project has been eye-opening for me. Although as a scientist I am very aware of the importance of data sharing and understand that data availability makes research advances possible, I had never considered this as a challenge that nonprofit research funders have to address. Updating donors, patient advocates, and other stakeholders on project progression is a critical part of making sure the funded projects are efficiently designed to understand disease etiology and to develop treatments. My project aims to resolve the key issue of generating grant language that maximizes the utility of data derived from the use of each non-profit's grant dollars.
I have now been involved with the HRA for over a year and have attended two members' meetings. On average, I have spent 3-5 hours a week working on projects related to my internship role. This experience has helped me to focus my time to be more efficient, both in achieving my internship project goals and in moving my dissertation research forward.
As a senior graduate student preparing for the next step of my career, I am incredibly appreciative of the opportunities the BRET Office of Career Development and the ASPIRE program have provided to me. I am now forever connected to the largest group of nonprofit scientific research organizations and the amazing people who run each of them. Although at the moment I don't know exactly where I will be headed once I defend, I will certainly be able to leverage this experience to open many doors and help me succeed no matter what the future holds.
Learn More: 
Health Research Alliance: www.healthra.org.
Vanderbilt ASPIRE Internship Program: https://medschool.vanderbilt.edu/aspire/aspire-internships.