M2 Eki Olumese and VUMC leaders speak at ceremony to unveil Vivien Thomas Way
by Emma Mattson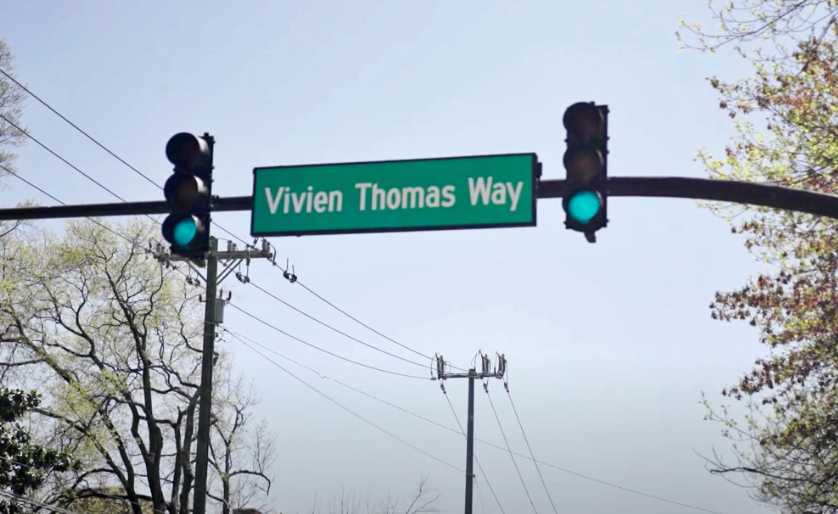 An April 7th celebration unveiled Nashville's newest street sign: Vivien Thomas Way. The street's name was changed this spring from "Dixie Place," an old moniker of the Confederacy which had lingered on Vanderbilt's campus for decades. VUSM leaders and members of the Committee to Rename Dixie Place spoke at the outside ceremony, which can be viewed on YouTube.
Members of Vivien Thomas's family, including his granddaughter Marcia Rasberry and her cousin Joy Buckley were in attendance, as well as metro council members who played key roles in the process of legally changing the street name.
Jillian Williams, a senior project manager for population health at VUMC, opened the ceremony and introduced the speakers, including three members of the Committee to Rename Dixie Place: Talissa Smith, Ekiomoado Olumese, and Cieara McBride.
Smith, a quality performance analyst with VUMC's patient access services, presented a brief history of the term "dixie," whose roots trace back to the Mason Dixon Line and blackface performances.
"In 'dixie,' we saw an opportunity to change the physical landscape to publicly reject racist ideals deeply embedded in the term, replacing it with a new message," Smith said. "We believed we could impact the culture of the institution by selecting a name that is the inverse of dixie and displaying it proudly."
Since June 2020, the Committee to Rename Dixie Place has worked to identify a list of names that would epitomize values like courage, service, justice, and community engagement— in short, a name that represented the antithesis of 'dixie.'
After collecting community nominations, the committee presented a finalized list to VUMC leaders and Metro Nashville City Council. Vivien Thomas Way was the unanimous selection.
As committee member Cieara McBride explained in her address, Thomas exemplified all the values the committee had prioritized in their search.
McBride, assistant to the chair of the Department of Medicine, spoke about Thomas's history and character. Thomas grew up in Nashville and worked for many years as a laboratory supervisor at Vanderbilt and Johns Hopkins. He soon became a pioneer of cardiac surgical techniques, despite having no formal surgical training.
"By naming Dixie Place in his honor, we are recognizing a truly exceptional person in Vanderbilt's history who can serve as an inspiration for our students, faculty, staff, patients, and community for years to come," McBride said.
Intertwined Pandemics: Fighting Racism during COVID-19
Committee member and med student Ekiomoado Olumese (M2) opened her speech by describing the 2020 landscape in which the work to rename the street began.
"Months of publicized racist attacks, preceded by generations of overt and covert racism, piled on the hearts of many, including myself," Olumese said. "While reeling with the emotional toils of one pandemic, we were forced to face another— a pandemic in which it was a crime to breathe while being Black. I thought to myself, it's a crime for me to be alive."
As a Black woman and a med student, Olumese said she struggled to balance her medical journey with her passion for justice.
"It became a daily struggle for me to choose to take a seat in the library, to take a stand at a protest, or to take a minute and acknowledge my own emotional exhaustion," Olumese said. "And believe me, we were all exhausted."
So when physician-mentor Dr. Walter Clair addressed the first-year students this summer about his past experiences as a Black med student, his words resonated deeply with Olumese.
"He said to us, Black students often think their task in medical school is to solve racism or somehow rectify social injustices for all, and they somehow think their deadline is graduation in four years," Olumese remembered in her speech. "He reminded us of this utterly unrealistic and unfair duty that Black people across professions are often tasked with, both by society and by their own selves."
Instead, Olumese said, Clair underlined the importance of fighting for justice through collaborative efforts, including those with people of all backgrounds. In this talk, Clair also encouraged the med students to take action on a concrete goal— like changing the name of "Dixie Place," a street Clair and others drove by every day to get to work at VUMC.
A group of nine med students, including Olumese, rose to that challenge immediately. Their coalition would soon include VUMC workers, employee resource groups, house staff and residents, as well as faculty and deans on the university side.
One More Step on the Journey
In the penultimate address of the ceremony, Dr. Jeffrey Balser, President and CEO of VUMC and Dean of VUSM, lauded the student-led nature of the change.
"Among many who deserve thanks on this day, a profound 'thank you' to our students," Balser said.
The VUMC president also expressed regret for how long the street's name had lingered on campus. Per Balser, no one at VUMC could remember a time before the street was named 'Dixie Place.'
"While today is a moment of pride in our students and leaders for making a long-overdue change, for me it is also a moment of regret," Balser said. "On behalf of the entire medical center, I am sorry that it took us far too long to understand and to act."
Dr. André Churchwell, Chief Diversity Officer (VUMC) and Senior Associate Dean for Diversity Affairs (VUSM), closed the ceremony with encouragement to continue antiracist efforts and follow Thomas's example.
"It is impossible to close the book on the profound effect Vivien Thomas has had on Vanderbilt, medicine, surgical techniques, and— maybe more importantly —on the history of racism in Nashville and America," Churchwell said.
In his address, Churchwell discussed other ways Vanderbilt has recognized Thomas's contributions, including his portrait in Light Hall and as inspiration for the program Hidden VUMC Figures, which honors unsung heroes at VUMC.
"Vivien Thomas continues from his heavenly perch to compel us to acknowledge that we have more to do and much to do to advance equity, diversity, and inclusion— both in our medical center, our medical school, the university, and the world as a whole," Churchwell said.