Rising fourth years Nicky Grimes and Adrian Sanchez develop non-invasive device to reduce need for surgery in ocular melanoma cases
by Emma Mattson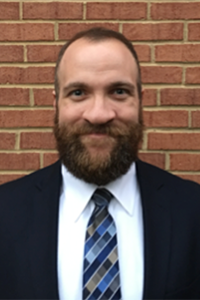 Rising fourth years in VUSM's Medical Innovators Development Program (MIDP), John "Nicky" Grimes, PhD, and Adrian Sanchez, PhD, are in the process of seeking patent protection for a device they developed this year to reduce the need for invasive surgery in advanced cases of ocular melanoma.
If the patent is granted, the device will mark the first invention to be patented within MIDP.
The Problem
Late last summer, Grimes approached the Department of Radiation Oncology seeking research opportunities. Due to his prior experience with stereotactic image-guided surgery devices, he was referred to Diandra Ayala-Peacock, MD, who treats patients suffering from ocular melanoma. Melanoma is most commonly known as skin cancer, but any cell in your body that produces the pigment melanin can develop this cancer. Ocular melanoma can develop in the iris, on the surface of the eye, or (most commonly) in the cells that line the inside of the eye. It was this last scenario— ocular melanoma inside the eye —that most interested Grimes.
If cancers of this sort are caught soon enough, patients are temporarily implanted with a device that emits radiation to reduce the tumor. Larger tumors, however, are trickier to deal with. Since the eye is a highly mobile organ, ophthalmological surgery is typically required to implant permanent, fiducial markers. These markers, sewn onto the back of the eye, indicate the position of the tumor even while the eye moves, allowing an external beam of radiation to target the tumor most effectively.
As he witnessed the long-term effects of this surgery on patients, Grimes began to question whether an easier, less invasive process could accomplish the same result. What if there were a marker that could be temporarily applied to the eye without surgery?
The Solution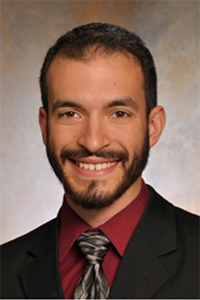 That's when Grimes reached out to Adrian Sanchez, a fellow MIDP with a shared interest in radiation oncology. Together, the two began to develop a temporary marker for use in patients with advanced ocular melanoma. This marker can be applied the day of radiation and then easily removed—with no surgery involved!
Grimes and Sanchez worked with the Vanderbilt Center for Technology Transfer and Commercialization (CTTC) to file a provisional patent application and conduct preliminary testing of an in-house prototype. Diandra Ayala-Peacock, MD, Adam Yock, PhD, and Guozhen Luo, MS, also formed part of their team during this process.
Overall, the development has moved more quickly than expected, thanks to the pair's varied expertise.
Before coming to Vanderbilt, Grimes completed his PhD in biomedical engineering and worked for several years at the U.S. Patent and Trademark Office (USPTO) and the U.S. Food and Drug Administration (FDA). Working at the USPTO had acquainted him with the patent process and propelled him to connect with the CTTC early in the development process. At the FDA, Grimes had reviewed stereotactic image-guided surgical systems, an experience which familiarized him with regulatory requirements and device features critical to surgical navigation. As for Sanchez, his previous medical imaging training and experience as a boarded medical physicist facilitated the development of an imaging-based marker that could still be seen on MRI and CT scans— a feature that would be crucial to their final product.
This, Grimes said, is "the whole spirit of MIDP:" combining varied expertise and experience to develop an innovative product that benefits patients.
"Having that engineering and FDA knowledge, empowered with the clinical medicine that we've learned through our three years at Vanderbilt, was what made it possible," Grimes said.
In fact, both credited their medical training for giving them a "shared language." Though each brings expertise from a different area, having medical training in common allowed them to collaborate most effectively.
"Usually, if you just get a bunch of people who each have their own specialty, if they don't share a common language and they don't know what matters to the other people on the team, you get lost in the weeds pretty quickly," Sanchez said. "If I hadn't had exposure to medicine through medical training … [the development process] just wouldn't have been as effective."
Sanchez, who plans to go into radiology, said he'd love to work at an academic hospital setting and have a role at the national level of ushering new technologies into practice—either by partnering with regulatory agencies, setting standards for testing new technology, or developing the new devices themselves.
For his part, Grimes said he aims to work at a medical innovation company ten years from now. As a founder, early employee, or chief innovation officer, he sees himself combining engineering expertise and medical knowledge to buoy medical innovation.
And, Grimes said, developing and seeking patent protection for this new device was a great place to start.
"This is the thing I have been most excited about in med school and what MIDP has allowed," Grimes said. "I'm over the moon, and I want to do more of this in my career."