A glimpse into the next year of Social Mission at VUSM
by Emma Mattson
This fall, M3s Eki Olumese and Helen Gambrah take over co-directorship of the Social Mission Committee. Olumese and Gambrah will be the organization's third set of co-presidents since its official student organization status in 2019, and they're thrilled to begin this year's work.
In fact, Gambrah and Olumese both entered medical school already ready to engage in health equity-centered work.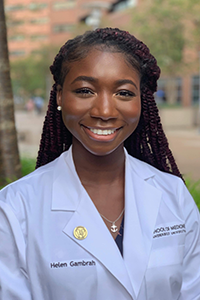 "I knew coming into med school that health equity was really important to me," Gambrah said. "Social mission was something that I really wanted to integrate into my career as a physician, so it was great to have this organization on campus."
During their M1 years, both Olumese and Gambrah attended events and dabbled in various SMC streams, including education, mentorship, and recruitment work. After concentrated work on initiatives like 615-Premed in their M2 year, the two became interested in strategical thinking for the organization as a whole.
That type of strategy plays a crucial role as SMC emerges from a pandemic year.
"Something we've both reflected on a lot is how much Heidi [Carpenter] and Somto [Ukwuani] and the whole executive board were able to do within this virtual setting," Gambrah said. "A big strategy for us is continuing and finishing those initiatives that they started in this virtual setting."
For example, SMC will continue strengthening partnerships with Nashville organizations like Dismas House, Olumese said. The subcommittees will also bolster 615-Premed resources and the growing antiracism curriculum at VUSM.
In addition to existing initiatives, the leaders are also excited to welcome new ideas and passion from the incoming M1 class.
"We've both been amazed at how incredibly driven the first-year medical students are, and they haven't been able to be as plugged in as first years have in previous years [because of COVID]," Olumese said. "We want to be sure that, when we start the school year, we harness that energy and passion for health equity."
Bringing in fresh ideas from the next generation won't just strengthen SMC as an organization; it will strengthen the social mission of VUSM as a whole.
"That is part of our overarching goal for this year— to make health equity and social mission more of something that you don't have to opt into but something that is more integrated into our medical school experience as a whole," Olumese said.
Since SMC is just a few years old, its vision and priorities are still developing. No matter what, this next year will be a year of exciting progress.
"SMC is such a great organization," Gambrah said. "We have great faculty advisors and there is just so much potential in terms of what we can do."